Shabazz Muhammad or Ben McLemore: Who ya got?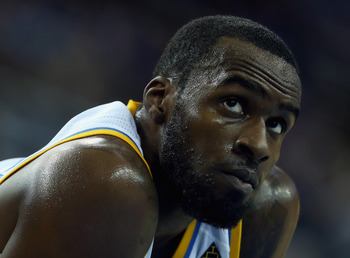 It has been a mighty long time since a shooting guard has  been selected as the first player  in the NBA Draft.
You would have to go all the way back to 1971 when the Cleveland Cavaliers chose Austin Carr out of Notre Dame to find evidence of a two guard being the number one overall pick. (Some might reason that Allen Iverson was a shooting guard who went first overall, but at the time of the 1996 draft, A.I. was drafted as a point guard and later moved to the off-guard position at the behest of Coach Larry Brown.)
In this upcoming draft, however, the streak has a chance of being broken if David Stern announces Shabazz Muhammad from UCLA or Ben McLemore from Kansas as the first selection in the 2013 NBA Draft.
While the two strive to help build upon UCLA's and Kansas' rich basketball history, the  name and game of Muhammad and McLemore will be linked from here on out as both try to show who is the better guard prospect.
To me, both guards play different styles and adopt different mindsets.
Shabazz thus far this season has been a one-dimensional player, marveling on offense while lagging behind on defense. I like to associate his game with that of Kobe Bryant because of his tendency to approach the game as a number one option, show minimal effort on defense unless he absolutely has to, not willingly creating scoring opportunities for his teammates, settling for inefficient shots, and somewhat resting on the heightened hype around him, which is by no means is his fault. At the end of the day,though, Shabazz is a big time talent and player who is capable of taking and making big shots and carrying an offense. Possessing a good motor, Shabazz is very competitive and will attempt to prove wrong every skeptic who tells him he can not do something well. So while Shabazz Muhammad's deficiencies may be pronounced right now in college, his work ethic and desire will likely lead him to improve upon the various aspects of his game upon arrival into the pros.
McLemore plays more like a very good complimentary player who is able to fit in perfectly while still shining in his own right. He operates more in the vein of a 2008-09 version of Ray Allen who is dangerous from the outside and can also take it to the rim and score. Even on a team already replete with  shot-makers, McLemore leads the Kansas Jayhawks in scoring by shooting the ball well from deep and getting out in transition, showing off his elite athleticism. Going back to McLemore's first year on campus, when he was ineligible to play but allowed to practice during the second semester, Coach Bill Self raved about McLemore's potential, calling him the best NBA prospect on a the team that included Thomas Robinson. McLemore still is learning how to play the game, but his shooting form and ability in addition to his athletic ability are second to none.
The stats also show a couple differences in both Shabazz's and McLemore's games (courtesy of BasketballReference.com).
Muhammad:
G   MP  FG  FGA  FG%  3P 3PA  3P%  FT FTA  FT% TRB AST STL BLK 
17 29.2 6.4 13.5 .472 1.4 3.0 .471 4.1 5.6 .719 4.9 0.8 0.5 0.1
TOV  PF  PTS
1.8 1.5 18.2
G  MP  PER  TS% eFG% ORB% DRB% TRB% AST% STL% BLK% TOV% USG% 
17 496 23.4 .563 .524 10.0  8.4  9.1  5.7  1.0  0.2 10.1 30.3
PProd  ORtg  DRtg OWS DWS  WS
274 113.5 103.3 1.5 0.6 2.1
McLemore:
G   MP  FG  FGA  FG%  3P 3PA  3P%  FT FTA  FT% TRB AST STL BL
18 30.9 5.4 10.7 .510 1.8 4.1 .446 3.4 3.9 .871 5.4 2.0 1.3 1.0
TOV  PF  PTS
1.9 1.8 16.1
G  MP  PER  TS% eFG% ORB% DRB% TRB% AST% STL% BLK% TOV% USG% 
18 557 26.3 .644 .596  5.7 13.0  9.8 13.2  2.4  3.5 13.4 23.9
PProd  ORtg DRtg OWS DWS  WS
262 124.0 88.2 2.5 1.4 3.9
The raw numbers and the advanced statistics show that McLemore is the more effecient shooter, defender, and overall player. This comes as no surprise due to Muhammad's tendency to force the issue by taking difficult, contested shots while McLemore usually attempts clean looks and higher percentage shots. What has to be factored in, though, is the fact that Muhammad was unable to play for a stretch that included scrimmages and some games causing him to still be working his way into shape and adjusting to the college game. On the other hand, McLemore  had an extra year of acclimation to college basketball during his red shirt year last season.
Both players' draft stock will depend on how they play from here on out and the needs of the lottery teams. It is a possibility that neither Muhammad nor McLemore get selected with the first overall pick, especially with the continued improvement and potential of Nerlens Noel and the steady play of  Cody Zeller.
Shabazz and McLemore both have high ceilings and possess star potential, but if I'm a   team that needs a complete overhaul like, say, the Phoenix Suns or the Orlando Magic, I'm going with Shabazz because he can create his own shot a bit better than McLemore due to his ability to dribble East and West and his better scoring instincts. However, if I'm a team  that already has a group of solid players like the Cleveland Cavaliers (though they already have Dion Waiters at shooting guard), the Sacramento Kings, or the Detroit Pistons, I'm taking Ben McLemore.
Either way, you can't go wrong with either player.
Let me know what you all think about the two guards and their draft stock. As always thanks for reading.