With the recruitment of point guard Parker Jackson-Cartwright out of Los Angeles, the Arizona Wildcats continue to craft a culture of character and direct their recruiting in a positive direction.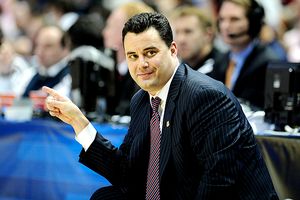 When Arizona Head Coach Sean Miller made the tough decision to indefinitely suspend Josiah Turner leading up to the 2012 Pac-12 conference tournament, it was clear that no player would be above the standard of excellence.
Turner, the prized recruit of Arizona's  2011 recruiting class, was making strides in terms of improving his attitude after a rough start to his college career. But with every step forward that he took, Turner seemed to backpedal, resulting in a "violation of team rules" for the second time that year and prompting Coach Miller to draw the line and put his foot down.
In response to being kicked off of the team, Turner made a decision of his own by stating that he would be transferring to an unspecified school.
From the outside, it appeared as though Miller was  giving up on a very talented lead guard that was billed as next in line.
But Miller's vision was not fixated on the short-term. Miller, like any guardian, could see into the future of Josiah Turner, and knew that in order for the talented guard to find success as a young man and as a basketball player, he had to learn to commit to being great every day, every practice, every game and in the classroom.  (Aside: I wish Josiah Turner all the best as he continues his journey to the NBA. Last I heard, he was overseas and plans on entering the upcoming NBA draft.)
The rest of that season, the Arizona Wildcats struggled mightily and eked out an appearnace in the NIT only to lose in the first round to Bucknell.
Turner's absence can still be felt today.
Arizona is fortunate enough to have Mark Lyons at the helm, he is more of a combo guard and lacks the playmaking abilities of  Josiah Turner. Although the Wildcats are ranked #18 in the AP Poll, they are likely to experience difficulties being efficient on offense in March because they lack a traditional, pass-first point guard on the floor.
However, Coach Miller has secured his number one target for the 2014-2015 season.  He has his leader of the future, his playmaker of the future, his installment at the point guard of the future all wrapped up in the slight 5′ 7" frame of Parker Jackson-Cartwright from Loyola High School.
Despite his diminutive stature, Jackson-Cartwright is a courageous, pass-first point guard who can run a team. He is not afraid to attack the rim relentlessly and finish over bigger players. Passing the ball is not a problem for the Los Angeles-based point guard as he does so with total unselfishness and skill. Nonetheless, Jackson-Cartwright will need to sure up his frame and employ some floaters and dribbling moves in order to score and get around more athletic defenders at the next level. Some of his court vision may be clouded as he will not be able to see over certain defenders or find the same angles that he saw in high school. He has the making of a great four year player who is more than capable of serving as a floor leader.
In the grand scheme of things, Parker Jackson-Cartwright represents a recent trend of very good to great prospects that Sean Miller has been able to bring in. He's no John Calipari, Mike Krzyzweski, or Roy Williams, but deserves credit.
In 2011, he brought in two 5-star recruits: Josiah Turner and Nick Johnson.  In addition to those two, Miller recruited two 4-star recruits: Angelo Chol and Sidiki Johnson (who was dismissed).
In 2012, Miller was able to add three 5-star prospects in Kaleb Tarczewski, Grant Jerret, and Brandon Ashley. Gabe York who was a 4-star player was brought in as well.
In next year's 2013 recruiting class, five-star forward Rondae Jefferson will be attending Arizona. Also, Aaron Gordon, a five-star recruit himself has strong consideration for Arizona.
Jackson-Cartwright has already verbally committed to Arizona. Many other 5-star/4-star recruits are considering attending Arizona.