Playoff Preview: (7) Boston Celtics vs. (2) New York Knicks
There is no other way to kick- off the 2013 NBA Playoffs, than with  a rivalry like the New York Knicks and Boston Celtics. This rivalry goes way back in time, and is still relevant today. Those that have followed the NBA this season know that there is plenty of bad blood between these two clubs.
The Boston Celtics will be without floor leader and one of NBA's elite point guards Rajon Rondo. Rondo led the team in assists (11.1) and steals (1.8), now Avery Bradley will take over point guard responsibilities in his absence. Just days after a terrorist attack hit the historic Boston Marathon; look for the Boston Celtics to play with a boost of energy, especially on their home floor at TD Garden. The Celtics have had an up and down season this year, barely stumbling into the postseason finishing (41-40). We all know that Coach Doc Rivers will have this Celtic team ready for battle come this Saturday afternoon.  It hasn't been all bad for Boston, they did acquire two sharp shooters in Jordan Crawford and Jason Terry this offseason. Also they welcomed back versatile forward Jeff Green, a hard nosed defender and a decent scoring option. Be on the look out as roaming eyes will also be on Kevin Garnett and Carmelo Anthony after their altercation during a regular season game. This blood trickled over from last seasons NBA Playoffs in which the Celtics swept the Knicks.
My how the tables have turned; it is now the Knicks who are favored to win this series. Coming into this years playoffs the Atlantic Division champions are playing phenomenal basketball; behind the newly deemed scoring champ Carmelo Anthony, and swingman J.R. Smith. Most believe Smith is the runaway candidate for the 6th Man of the Year award.  The New Jersey native is averaging (18.1) ppg and (5.3) rpg and to many he can start on any team in the league. Coach Mike Woodson has turned this Knicks team around getting them to buy into the defensive end of the floor. New York has one of the better defenses in the league lead by All-Star Center Tyson Chandler and gave up only (95.7) ppg on the year. That was good enough for 7th in the NBA, and not only do they defend but they put up points. The Knicks averaged right at 100 points per ball game this season.
Keys to the Series: Boston Celtics
– Manage the clock, don't get into a shoot out with New York
– Limit second chance points, BOX OUT Tyson Chandler
– Win one on the road, the Celtics are one of the better road teams in the NBA
– Your not going to completely stop Carmelo Anthony, BUT make him work on offense and on defense
– Keep turnovers to a minimum. New York is a very good in the open floor with aerial threats and snipers on the perimeter.
Keys to the Series: New York Knicks
– Protect home court, the Knicks do not want to go into a hostile environment like Boston tied 1-1 or down 0-2 for that matter.
– Carmelo Anthony must stay in attack mode every minute he is on the floor.
– Mike Woodson is going to have to coach this series,must be able to make the necessary adjustments.
– Raymond Felton has to continue getting  everyone involved offensively when he is clicking this team is almost unbeatable.
– New York must keep their composure against this veteran group of guys, this series will definitely be intense. The Knicks must remain under control and stay focused.
Series X-Factors: Boston Celtics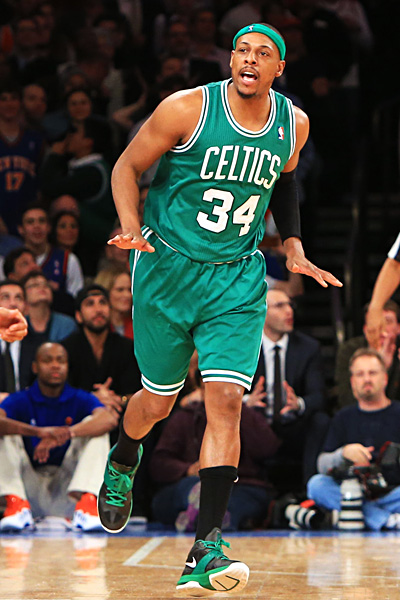 Paul Pierce is a NBA Champion and NBA Finals MVP, known for his big shots in the playoffs. Pierce will have to will this Celtics team to victory like only he can. "The Truth" seems to always rise to the occasion when its gut check time. Although he didn't put up eye popping numbers this season look for Paul to come out firing on all cylinders. This season he put up  (18.9) ppg (6.3) rpg and (4.8) apg, look for Pierce to accept the challenge of Carmelo Anthony in this series. And do not be surprised if he is defending Carmelo from the tip-off.
Series X-Factor: New York Knicks
J.R. Smith aka "6th Man of the Year" will be the X-Factor in this series for the Knicks. Going into the playoffs J.R. Smith is averaging  (22.0)ppg and (6.6) rpg for the month of April. It is very difficult to beat this Knicks team once Smith gets going, it takes a lot of pressure off of Carmelo Anthony. It opens up the lanes for Raymond Felton which creates easy tip dunks, alley oops and tap outs for Tyson Chandler. So as you can see the play of J.R. Smith is crucial. He has connected on 155 three pointers this season and is shooting the 3 ball at .356 percent. J.R. has really embraced the 6th man roll because he is capable of being a starter on numerous teams around the league. Versus the Celtics this year Smith is averaging (20) ppg and (7) rpg.
MY PREDICTION: Knicks in 6
Although I know Boston is a veteran ball club that has been here before, I'll have to take the New York Knicks in this series. I believe this is the year for Carmelo Anthony he has the pieces around him to succeed. A good coach that can be really good, a nice bench, and the support of the city. They won this years Atlantic Division title and season series versus Boston. Also I take into consideration that Rajon Rondo is not suiting up this postseason. Guys like Steve Novak, Amare Stoudemire, J.R. Smith are going to thrive off of the home crowd and I see the Knicks taking both games at MSG. And I just don't see Boston coming back from a 0-2 deficit against THIS Knicks group. Im not saying its not possible I just believe the Knicks have their number this time.
#KNICKSTAPE
You can follow me on Twitter @jdotbras also check out my blog at thebaselineblurb.wordpress.com