Greater responsibilities for less heralded college players
Six months before the majority of teams begin their journey to the tourney, many (including myself) are already anticipating the upcoming college basketball season. The incoming class of recruits is being billed as one of the best group of prospects in a long time, and rightfully so. Couple those incoming freshman with some of the high-level players who have decided to return to school (Marcus Smart, Adrian Payne, Doug McDermott, Isaiah Austin, among others) and that adds up to a season that promises to be a classic. The star power in college next year also makes for a very competetive and deep 2014 draft class.
Nonetheless, there are always players who don't have a lot of hype surrounding them but end up playing a big role in their team's success. Below, I take a look at some of the less talked about players who will have to perform well for their respective teams next season.
J.T. Terrell 
(Sr.)
—USC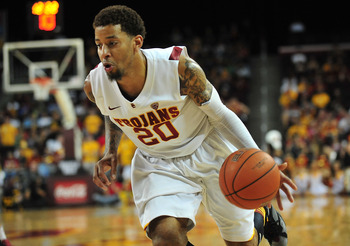 Other than crossovers and fade away jumpers, the one thing I remember from J.T. Terrell's time in high school was when he implied, without hesitation, that he would beat O.J. Mayo, a promising sophomore in the NBA at the time.
This upcoming season, Terrell will need every bit of that same confidence to help keep the USC basketball team afloat under new coach Andy Enfield.
The Trojans will have to find a way to compensate for the departures of their top scorer (Eric Wise- 11.9 ppg), best assistman (Jio Fontan- 5.3 apg), and leading rebounder (Dewayne Dedmon- 7.0 rpg). From a percentages standpoint, the Trojans who went 14-18 (9-9 in Pac-12 play) last year will be without 65% of its scoring, 55% of its rebounding, and 61% of its assists from a season ago. That is a steep cliff to climb without any heralded recruits coming in to replace those who are leaving.
But if Andy Enfield proved anything during March Madness it was that he had the ability to make a group of overlooked players perform well in his fast-tempo offensive system.
A coach who encourages playing fast and free is exactly what the doctor ordered for J.T. Terrell. His game is tailor-made for Enfield's system. But there still remain questions of whether Terrell can improve his efficiency (had a 37.2 FG % last year), attitude (has past red flags, but has made progress), ability to create for teammates (has never been lauded for sharing the ball), and consistent effort on defense.
If J.T. improves those parts of his game, he will have a great senior season.
T.J. McConnell (Jr.)—Arizona
Some have referred to the Duquesne-transfer as Arizona's Aaron Craft because of his all-out-effort on defense (A-10 all-defensive team in his sophomore season) and his ability to steadily play the point guard position (2-to-1 Assist to turnover ration in 2011-12).
Defensive effort and good guard play were the biggest issues that Arizona had last year, and T.J. McConnel will help improve both. He will bring the intensity needed on both ends of the floor and elevate the team-wide effort with his infectious motor.
But his greatest impact may be felt when he is at the helm on offense. From top to bottom, Arizona's 2013-14 roster is filled with players that possess elite athletic ability, but not many who can create their own offense in the half court. Nick Johnson and Aaron Gordon are both dynamic players and athletes, but at this stage in their development, they are much better when they get easy, open shots.
If McConnel produces for this Arizona team the way he is expected to, the Wildcats should go deep into the tournament.
Quinn Cook (Jr.)—Duke
After an injury-hampered freshman season, Quinn Cook made some strides in his second year on campus. This is the point in time that many expected Cook to make his greatest impact under Coach K. He was largely overshadowed by Austin Rivers in the 2011 Duke recruiting class, but many (especially in the DMV) knew that he could ball.
Now that Seth Curry, Mason Plumlee, Ryan Kelly are gone, Cook, the fiery lead guard, will have to step up and make the impact we all know he can.
With Jabari Parker, Matt Jones, Rasheed Sulaimon, and Amile Jefferson as good scoring options, Cook should have no trouble finding versatile players who can put the ball in the basket. He'll have to squeeze the orange a bit tighter because teams will probably try to take the ball out of his hands. On defense, Cook should continue to be a pest by applying the famous Duke ball pressure out high on the perimeter.
I expect Duke to be a very good team next season, but they will have to shore up the Center position. The third Plumlee (Marshall) may assume that role, but that remains to be seen.
Dwight Powell (Sr.)—Stanford
As last seasons leading scorer for Stanford, Dwight Powell will be looking to duplicate his performance during his senior year.
Powell struggled in his first two seasons, but made a huge jump in his junior campaign (despite the tragic death of his mother before the season) and helped Stanford win a solid 19 games.
He will be one of seven seniors on the team next fall, so Stanford will be one of the more experienced teams in college basketball. But if the Stanford basketball team is to go anywhere, Powell will have to continue to perform at a high level.
I look for Stanford to be anywhere from the middle of the pack to the high end of the Pac-12 standings. I also look for a strong season out of Powell, culminating in a NCAA tournament bid.
Johnny O'Bryant (Jr.)—LSU
The LSU version of Kenneth Faried opted to stay in school for his junior season, possibly securing his team a Top-25 poll standing in the upcoming season.
Last season, O'Bryant posted strong numbers with 13.6 points per game and 8.7 rebounds as the star of the team. Despite the production, the team finished with an average 19-12 record while playing in a mediocre SEC conference.
But the Tigers could find themselves near the top of the SEC standings with the paring of Anthony Hickey and O'Bryant, along with the incoming forwards Jarrel Martin and Jordan Mickey.
O'Bryant will be a force down low for LSU next year but his burden will also be a lot. He absorbed most of the rebounds last year but will get some help from Martin and possibly from Mickey.
Anthony Hickey and O'Bryant are the unquestioned leaders of the team, but their teammates will need to produce as well.