Ready, Set…Recruit: Kentucky Edition
 Photo credit: Evan Habeeb-US PRESSWIRE
At midnight this past Saturday (June 15), college coaches were officially allowed to make their recruiting pitch to members of the 2015 basketball recruiting class. John Calipari, who has been proprietor of the best recruiting classes since he stepped on campus, wasted no time doling out offers to three of the top players in the class of 2015–Stephen Zimmerman, Skal Labissiere, and Charles Matthews.
Let's take a look at these players:
Stephen Zimmerman
Measurements: 6′ 11", 215 lbs
Position: PF/ C
School: Bishop Gorman High School– Las Vegas, Nevada
Rank: ESPN- #7 overall, Rivals- #2 overall, 247 Sports- #8 overall
The 7-foot southpaw reminds me every bit of Greg Monroe, not only for being a lefty big man, but also because he possesses a high level of skill to go with his height. Much like Monroe, Zimmerman has nimble footwork in the post and can deliver passes over, through, or under the defense. Zimmerman has flashed the ability to  step out and hit  jumpers, which is key in his development. While he does need to add bulk to his frame, Zimmerman can bang with the best of them by using his post moves and ability to hit turn-around jumpers. Possessing great timing, Zimmerman can block shots and protect the paint from penetrating guards.
Stephen Zimmerman's Highlights:
Skal Labissiere
Measurements: 6′ 10", 200 lbs
Position: PF/ C
School: Evangelical Christian School– Cordova, Tennessee
Rank: ESPN- #6 overall, Rivals- #6 overall, 247 Sports- #7 overall
Here's a great read by Garry Parish of CBS on Skal Labissiere, who survived of the Haitian earthquake and became a household name within the basketball ranks.
http://www.cbssports.com/collegebasketball/story/19614399/after-surviving-haitis-quake-labissiere-out-to-make-most-of-his-second-chance
…
Skal is yet another highly-skilled big man in the class of 2015. He is as complete as they come on the offensive side of the floor, capable of hitting shots from the perimeter and doing damage in the post. He plays the game at a good pace and possess a high basketball IQ. He doesn't allow the defense to speed him up or take him out of his game. Skal does a great job of keeping the ball high at all times above defenders and uses jab steps to the defense guessing.  While Skal is not an elite athlete, he compensates with his smooth and fundamental moves on offense. In more ways than not he resembles Baylor forward Isaiah Austin , particularly in build. His shoulders don't look like they will support a ton of weight, but he can certainly put on more muscle.
Skal Labissiere's Highlights:
Charles Matthews
Measurements: 6′ 4", 175 lbs
Position: SG
School: Saint Rita High School– Chicago, Illinois
Rank: ESPN- #9 overall, Rivals- #9 overall, 247 Sports- #16 overall
Last night Charles Matthews tweeted that he received offers from Missouri and Kentucky.
https://twitter.com/CMATTHEWS_1/status/346824380787089408
Known for his wingspan and scoring instincts, Charles Matthews is one of the top ranked shooting guard prospects in the country.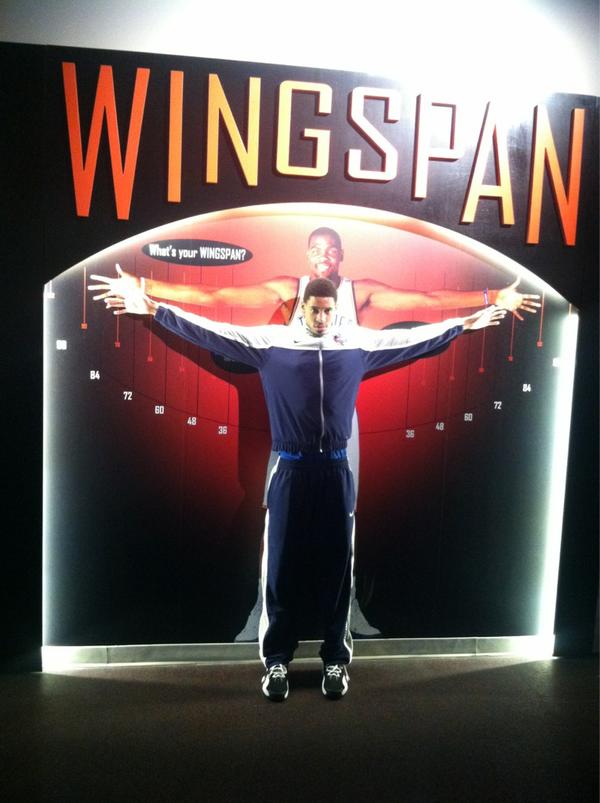 Matthews is a smooth player, who can put the ball in the basket in a variety of ways. If you give him space, he'll knock down the shot or take you off the dribble and hit pull-up jumper. On the fast break, he can  flush it with a transition dunk. If things get jammed up in the half court and the defense plays him tightly, he'll spin off and make a floater or simply make a turn-around jumper. On defense, Matthews' length bothers shooters who have trouble getting their shot off against him. As he continues to grow, Matthews can have a big impact on the defensive end.
Charles Matthews' Highlights: