"Cupcake" Games: Do They Hurt Title Contenders?
On college football's first weekend, there are some big, prime-time games everyone wants to see. The biggest games of the weekend will be Saturday night, with fifth-ranked Georgia traveling to Clemson to face the eighth-ranked Tigers and the twelfth-ranked LSU Tigers going against the 20th ranked TCU Horned Frogs in Cowboys Stadium. However, while those teams are giving themselves an early test, there are the games college football fans not-so-affectionately call "cupcakes." Those games include: Texas A&M vs Rice, Nebraska vs Wyoming, Baylor vs Wofford, West Virginia vs William & Mary, Tennessee vs Austin Peay, Wisconsin vs UMass, and Oregon vs Nicholls State. Unless you were wondering on that last one, Nicholls State only won one game last year and Oregon only lost one.
It's obvious why teams like Wofford, William & Mary, or Nicholls State play BCS powerhouses when they know defeat is almost certain: money. Darren Rovell of ESPN reported some of the big payouts the teams are receiving for these games on his Twitter account. Oregon is paying Nicholls State $450,000, Wisconsin is paying UMass $900,000, and Ohio State is even paying the University of Buffalo $1 million. It definitely pays off for these smaller programs to get some money and get a big road test at the same time.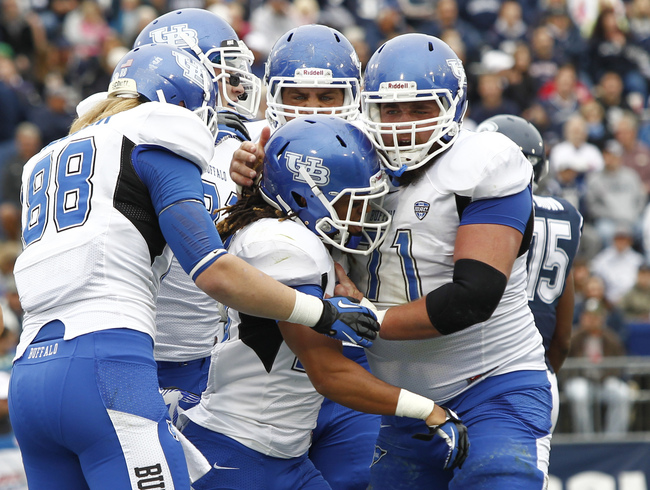 As for the big-time programs, do these games help or hurt them down the road? Well, USC was ranked #1 in the land in last year's preseason rankings (hard to believe, I know). They started the season against two teams that weren't necessarily cupcakes, but that they knew they were significantly better than- Hawaii and Syracuse. After rolling past the Warriors and Orange, they were beaten by Stanford on the road in their first conference game. Syracuse is no Wofford, but the Trojans were still ill-prepared in their first big test, and would go on to go 7-6. Oklahoma started last season against UTEP and Florida A&M, beat them by a combined 73 points, then lost to Kansas State the next week. Oklahoma State beat Savannah State 84-0, then lost to Arizona the next week. Wisconsin started out against Northern Iowa, then lost to Oregon State and lost four Big Ten tests after that. While Wisconsin still made the Rose Bowl, the other teams weren't that lucky. On the flip side, the big game that first weekend was Alabama vs Michigan. The Tide won that big first test in convincing fashion and, as everyone knows, went on to win the national title. As previously mentioned, Georgia and Clemson face off tonight in the marquee matchup. Does this mean the winner is going to win the BCS? Not necessarily, but they're giving themselves a big boost in the big picture of the college football landscape.
So in conclusion, which path is the better one to take for big-time college coaches? A cupcake game against Direction State, or a big-time, top-10 matchup against a perennial powerhouse? There are serious cases for both. Against a cupcake team, you have an almost-guaranteed 1-0 record to start the season, which you may not have against a powerhouse team. With the BCS rankings, a Week 1 loss will hurt you in your national championship hunt. But if you win against a top-10 team, you give yourself a huge boost in the standings and are championship-tested. Which Week 1 game is better? That's up for those programs to decide.