Fantasy Football Recap: Week 1
There were some definite surprises in the world of fantasy football this weekend. 50% of fantasy owners are celebrating their big first win on this lovely Tuesday, while the other half are gloomy as they curse their star wideout or tailback for not producing. Who were the top dogs after Week 1 and which players had a disappointing first showing? Should you be cutting players after one game? Let's break it down! (Note: point totals are based on ESPN's standard scoring system)
Top Dogs
Peyton Manning, Broncos. Peyton started the season off right by torching the Ravens secondary. His seven touchdowns tied for an NFL record, and he had 46 fantasy points, which led all players. Peyton's going to produce in Denver; if you have him, keep him in the starting lineup. Colin Kaepernick, 49ers. If you had Kap on your bench in favor of another QB (like yours truly), chances are you were kicking yourself today (unless you have Peyton, of course). The Niners' star had 412 passing yards and three touchdowns, good for 30 fantasy points on opening weekend.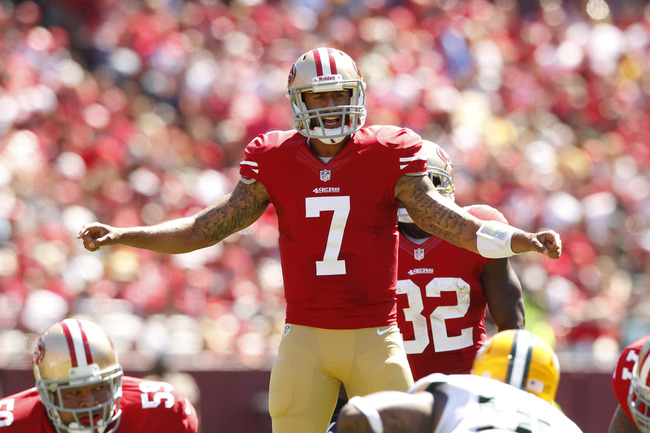 Victor Cruz, Giants. Despite his Giants losing, Cruz caught five passes for 118 yards, breaking out his trademark salsa dance three times after finding the end zone. 29 fantasy points for #80 in blue.
Adrian Peterson, Vikings. The #1 player in most drafts, AP did not disappoint on Sunday, running for a 78-yard TD on his first carry of 2013. He would add another two TDs later in the game, gaining 28 fantasy points.
Michael Vick, Eagles. Michael Vick surprised the Redskins and most of the country on Monday night, leading Chip Kelly's "Spread Eagle" offense to a 33-27 win in which the game was more of a rout than the score suggested. 203 passing yards, 54 rushing yards and three total TDs add up to 25 fantasy points and the re-emergence of #7 as a legitimate fantasy starter.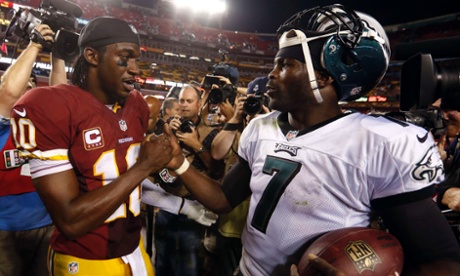 Duds
Stevan Ridley, Patriots. Ridley was started in 98% of ESPN leagues last week. Those owners were surely annoyed with Ridley's two-point fantasy performance in which he only rushed for 46 yards on nine attempts and had a very costly fumble. One of the duds of the week for sure.
Marshawn Lynch, Seahawks. The Seahawks got the win, but Lynch's owners were not happy with their running back only mustering up 43 yards on 17 carries for a whopping four fantasy points. He's going to get more yards as the season goes on, but it was not a good start for Lynch.
Maurice Jones-Drew, Jaguars. MoJo was yet another tailback who struggled this week, rushing for just 45 yards on 15 attempts. Once again, four fantasy points. If you were wondering why Jacksonville lost, it's partly because their one consistent player was inconsistent on Sunday.
Ben Roethlisberger, Steelers. The Pittsburgh offense was pitiful on Sunday, and Big Ben was no exception. Roethlisberger threw a TD, but threw a pick too, and only racked up nine points against the Titans. Ben's not going to be a #1 QB on many fantasy teams; if he's yours, consider trading for one who throws for more yards.