Olympic Hockey is here! North America's most anticipated Olympic event begins tomorrow (with the U.S. and Canada starting play on Thursday), and everyone is talking about who they think will bring home the gold medal. Which team will win each group, who will make it all the way to the gold medal game, and who will golden when it's all said and done? Let's break it down!
Group A
1. Russia. Russia will win Group A with little trouble. Slovenia, the United States and Slovakia should all realistically be wins for the powerful Russian team. The obvious reason: Alexander Ovechkin. "Ovi" is one of the top three players in the NHL and instantly provides a go-to scorer for this team. After the 2o1o Olympic collapse where Canada destroyed the Russians in the quarterfinals, a lot of pressure will be on Ovechkin to lead the team in their home country. Another embarrassment like the one four years ago will not be acceptable. While he bears a lot of the burden, he has Evegeni Malkin and Alexander Semin alongside him on the first line. That's an All-Star forward line that will definitely feast on weaker defenses in this tournament. The second line? It's just as potent, with Ilya Kovalchuk, Pavel Datsyuk and Alexander Radulov. Every hockey fan knows Kovalchuk and Datsyuk for their great NHL careers, but not many know that Alexander Radulov is the Kontinental Hockey League's all-time leading scorer. You put the top two lines together and you have a legitimate contender on your hands.
2. United States. Behind Russia will be the United States, who will not beat Russia but will defeat Slovakia and Slovenia. The main question surrounding the U.S. has been who the starting goaltender will be, with Dan Bylsma refusing to announce a starter in the press. It will either be Kings goalie Jonathan Quick or Sabres goalie Ryan Miller. There are two sides to this debate. While Miller led the Americans to the silver medal as goalie in 2010, and he has carried the horrible Sabres team this year, Quick is arguably the best goaltender in the NHL right now. He's younger, he's quicker (corny, I know), and he has the stuff to put the U.S. on his back just like he's done in L.A. Two incredible goalies, but I think Quick should get the nod. Either way, the Americans will finish second in the group. They're not getting the top spot but they aren't likely to fall to the other two in the group. The forward who will need to make an impact for the U.S. to go deep is Joe Pavelski. If Pavelski can be as clutch in the Olympics for America as he is in playoff time for the Sharks, that's a huge edge for Bylsma's group. The captain, Zach Parise, and the best scorer, Patrick Kane, will also need to be huge.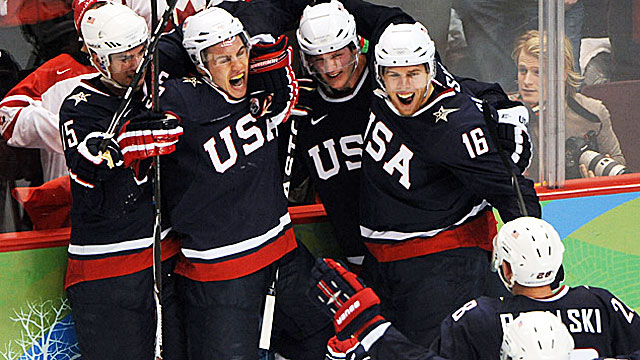 3. Slovakia. Slovakia is no team to take lightly in this tournament, however. They have the biggest player in the Olympics in Zdeno Chara, the Hossa brothers (Marcel and Marian, who can score at the drop of a hat), and a pretty talented goalie in Jaroslav Halak. The main issue with Slovakia is depth, because they don't have the amount of star power Russia and the United States have. After Chara, this isn't a very intimidating defensive group. After the Hossa brothers, the offense isn't anything scary.  They don't have the depth, which is going to hurt them against the top two, who have a multitude of great NHL players. It's not their year.
4. Slovenia. Slovenia only has one NHL player on their roster (Anze Kopitar) and is filled with players not many people have heard of. Kopitar will have a great three games, but Slovenia just won't do great in this group.
Group B
1. Canada. No surprise here. Even a team made up of the Canadian NHL players who didn't make the roster would beat the other three teams in this group. The first line is going to be Chris Kunitz, Sidney Crosby and Jeff Carter, while the second line is made up of John Tavares, Ryan Getzlaf and Corey Perry. The third line is going to feature Patrick Sharp, Jonathan Toews and Rick Nash, and the fourth line (usually a mediocre line in the NHL) is going to be Jamie Benn, Patrice Bergeron and Patrick Marleau. And if anyone needs a sub, Martin St. Louis and Matt Duchene will gladly go in the game. Simply put, this team is incredible on paper and will likely be incredible on the ice as well. Toews is a big key. The bigger sheet of ice doesn't necessarily play into his favor, but if he overcomes that and has a productive tournament, Canada's chances of winning gold are even better. Goalies Roberto Luongo and Carey Price are expected to split time, and the former will be expected to have another stellar Olympics like he had in 2010. This is the only time you'll hear Toronto, Montreal and Winnipeg fans chanting "Luuuuuuu."
2. Finland. Finland will need a big performance from Bruins goalie Tuukka Rask to compete for gold. They have the offense (led by Teemu Selanne, who is playing in his sixth Olympics) and defense (Kimmo Timmonen and Sami Salo are two notable NHLers on the D), but which Tuukka will we see? Will we see the stone wall who makes incredible save after incredible save, even on breakaways? Or will we see the sieve who looked like Swiss cheese at some crucial moments in the 2013 Playoffs? That's a big question for the Finnish team, who has a chance to contend for gold if Rask plays like the Vezina candidate he is. He will need to play big against Canada if they have any shot of winning that game. Everything else should be smooth sailing. It'll be better for the game of hockey and the viewing pleasure of fans everywhere if the incredible Tuukka shows up and puts on a show in the next few weeks.
3. Norway. I'll admit to a lack of knowledge about the Norwegians, but I'll give them the edge over Austria. Mats Zuccarello has become a go-to player for the New York Rangers, and will fight hard to get some goals in Sochi. The Norwegians almost made it past the group stage in Vancouver, so you know they won't roll over against the teams in this group. They won't beat Canada or Finland, but they should beat Austria.
4. Austria. The Austrians are led on offense by Thomas Vanek, a superb player for the New York Islanders. Vanek's teammate, Michael Grabner, is also a forward on the team, so the chemistry is there. In the end, it comes down to depth, and the Austrians don't have it. They won't make any noise in this tournament, but the fact that they qualified for the first time is an achievement in the first place.
Group C
1. Sweden. Many are saying that Sweden is the most complete team in these Olympics, and they have a great case. The offense, which includes Henrik Zetterberg, Daniel Sedin, Nick Backstrom, Daniel Alfredsson and Alexander Steen, is formidable even with Henrik Sedin injured. Every defenseman is a quality NHL player, and Henrik Lundqvist is in net, which means not many pucks will be getting past the Swedes. Sweden is loaded, plain and simple. It'll take a perfect gameplan to beat them in group play.
2. Czech Republic. The Czechs are going to be 2-1 in the group stage, only losing to Sweden and taking advantage of what is probably the weakest group out of the three. They have an okay offense with Jaromir Jagr, David Krejci and Milan Michalek, but they won't be putting six or seven goals on the board. Goaltender Ondrej Pavelec is having a rough NHL season with Winnipeg, but he's basically their best option. This is a weak #2 team, and it'll show when it's one and done.
3. Switzerland. After the paragraph about the Czechs, it should be pretty obvious that I don't think the Swiss are very good either. Goalie Jonas Hiller is fantastic, and Mark Streit is an average NHL defenseman, but after that the only intriguing thing about this team is that they have a player named Matthias Bieber. Any relation to Justin? And what does he think about the Biebs and his string of recent arrests? NBC Sports has to get on this story when Switzerland is on the ice in Sochi.
4. Latvia. Latvia only has one NHL player, Zemgus Girgensons of the Buffalo Sabres. When your most well-known player is a third liner on the worst team in the league, you're in for some trouble in Olympic play. Latvia will go 0-3, and may lose by a lot.
Qualification Round 
(Byes: Canada, Russia, Sweden, United States)
(8) Norway vs (9) Switzerland: Norway will win a battle.
(5) Finland vs (12) Latvia: Finland shuts Latvia out in a beatdown.
(6) Czech Republic vs (11) Austria: Czech Republic dominates and advances to the quarters.
(7) Slovakia vs (10) Slovenia: Slovakia will win an extremely confusing contest. Which is which again?
Quarterfinals
(1) Russia vs (8) Norway: Ovechkin doesn't lose in the quarters this time. Russia wins a one-goal game.
(4) United States vs (5) Finland: The U.S. wins a tight one, with Patrick Kane repeating the Blackhawks' late-game heroics against Tuukka Rask, this time in the Olympics. (3) Sweden vs (6) Czech Republic: Sweden gets a blast from the past when Daniel Alfredsson scores two goals to lead them to victory.
(2) Canada vs (7) Slovakia: It's easy to go chalk, but it's the right call here. Sidney Crosby and company will be ready for the Hossa brothers, and Canada win a tight 4-2 contest.
Semifinals
(1) Russia vs (4) United States: The United States will see their run end against Ovechkin, Malkin and the Russians. The bigger sheet of ice benefits Russia tremendously in this one, and they'll use their speed to eliminate the Americans from gold medal contention. 3-1 Russian win.
(2) Canada vs (3) Sweden: Canada 

will overpower the Swedes in this one. While Sweden is one of the most complete teams in the tournament, Canada 

is

the most complete. This one will start out even, but John Tavares will bury a big goal in the third period and the Canadians will win 5-3.
Bronze Medal Game
(3) Sweden vs (4) United States: The United States will be up to the task of picking up the pieces and going home with at least a medal. Sweden will still be thinking about the semis, which will not benefit them at all in this one. The U.S. will win bronze by a score of 3-2, with the captain playing a pivotal role.
Gold Medal Game
(1) Russia vs (2) Canada: This is the matchup many hockey fans want to see in the Gold Medal Game. Russia and Canada both have high-powered offenses and stifling defenses, making for an even game in the final. In the end, I don't see Russia losing in front of their fans on their home ice. Alex Ovechkin will finally validate himself on the international stage, Evegeni
Malkin will have a goal and two assists, and the Russians will win 5-2 to grab the gold.
As the old saying goes, let the games begin.