Baseball is back and you could argue that the position with the most talent in the game right now is center field. Some of the brightest young stars have become "captains" of the outfield and have more than lived up to the responsibility. Who's the best center fielder in baseball? Let's count them down!
10. Brett Gardner, Yankees. Gardner, entering his seventh season in the big leagues, has become a solid offensive and defensive player for New York. A career .268 hitter, he drove in a career-high 52 runs last year. Defensively, he only committed three errors in center, adding to his .991 career fielding percentage. 2013 was a great comeback season, a year removed from missing all but 16 games due to an elbow injury in 2012. Joe Girardi and the Yankees will sure hope 2014 is an injury-free year for the speedster, who has averaged 27 steals per year in his career. Gardner can beat you with a timely hit, flash of the leather and his legs, which is good enough to put him in the Top 10.
9. Denard Span, Nationals. Like Gardner, Span is no power hitter but is just as dangerous with his legs. Last season he hit .279 with four homers, 47 runs batted in and a league-high eleven triples. He also managed to steal 20 bases along the way. Span is a fair contact hitter (.283 career average, only averaging 66 strikeouts per season), fantastic fielder (no errors in 153 games last season, snubbed of Gold Glove Award) and one of the fastest players in the league. For the Nationals to win the NL East, he's going to have to stay consistent in that leadoff spot. Washington will be looking for him to set the table.
8. Jon Jay, Cardinals. The 29-year old Jay is a better hitter than Span and Gardner, which puts him ahead of them on the list by a hair. A career .293 hitter, Jay drove in 67 runs in 2013, proving himself to be a tough out with runners on base. More importantly, he comes up big in the pennant race: his batting average is best in August and September (.327 and .309 respectively). He needs to cut down on his strikeouts, but once he becomes more selective on the plate he's going to be an All-Star. Did I mention he hits .369 against the rival Chicago Cubs? Jay is a prime-time player, and the Cardinals need him to be this year.
7. Austin Jackson, Tigers. Jackson has some pop, can steal bases when healthy, and is a flashy fielder as well. The strikeout numbers still have to improve as well as his hitting with runners in scoring position, but Jackson will be an All-Star-caliber player with the opportunity to win a few World Series titles for years to come. It will be interesting to see how manager Brad Ausmus uses him on the basepaths, Jim Leyland wasn't always eager to set him free when he was at the helm.
6. Coco Crisp, A's. After a previous season-high of just 16 home runs, Coco Crisp exploded for 22 in just 131 games last year to launch him into the Top 10. He has become better at being more selective at both the plate and the basepaths, leading to more runs on the scoreboard for Oakland. Crisp will need to prove 2013 wasn't a fluke by continuing his power surge this year. RBIs are just as important for him as homers.
5. Jacoby Ellsbury, Yankees. Ellsbury was one of the biggest stories of the offseason when he left the World Series Champion Red Sox for the archrival Yankees. The move was obviously extremely unpopular in Boston and welcomed in New York, but can he actually stay healthy enough to make a big impact? Ellsbury has missed 264 games since 2010 with various injuries, he missed some spring training action due to a calf issue. If he's in the lineup, he's one of the most prolific base-stealers in recent memory, with 52 last year and a career-high 70 in 2009. The contract he got was huge, which is going to motivate him even more when he's out there on the field. But there are too many question marks about his health and actual value to a big-league team (his wins above replacement value has been inconsistent throughout his career) to put him higher than fifth on the list.
4. Carlos Gomez, Brewers. The "other" CarGo (Rockies outfielder Carlos Gonzalez is usually given more attention) is becoming a star in the majors due to his breakneck speed, power and fielding ability. Last year was his best season so far, with a .284 average, 24 home runs, 73 runs batted in, 40 stolen bases and a Gold Glove Award. Once he fully matures and learns to rein himself in (the incident in the game against Atlanta comes to mind), he will be a perennial All-Star as he tries to get Milwaukee back into the postseason.
3. Adam Jones, Orioles. Adam Jones is one of my favorite players to watch in the game today; he's just so young and so talented. Over the last two seasons, he's hit .286 with 65 home runs and 190 runs batted in, stealing 30 bases and winning a Gold Glove as well. He's electrifying, has a high baseball IQ and would run through a wall for his team. It just took a while for him to get his power up. This year, he'll hit 30-plus homers once again as he tries to take Baltimore back to the playoffs.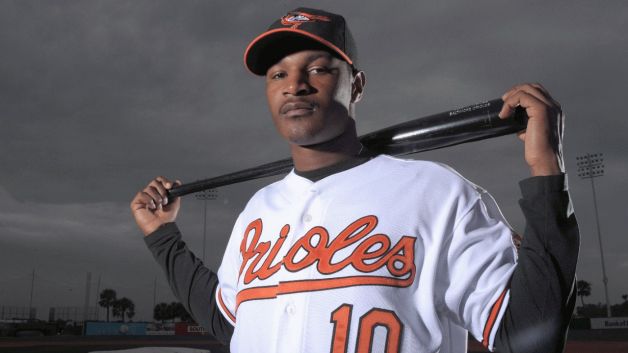 2. Andrew McCutchen, Pirates. Pittsburgh would not have had their magical season last year if it weren't for their superstar center fielder. There aren't many players I would give the "superstar" tag to, but he's definitely one of them for his ability to come up clutch and carry his team to heights they hadn't experienced in over 20 years. McCutchen is a five-tool player; he can hit for average, hit for power, run well, make any throw and fields his position with ease. Look for him to drive in even more runs this year for Pittsburgh.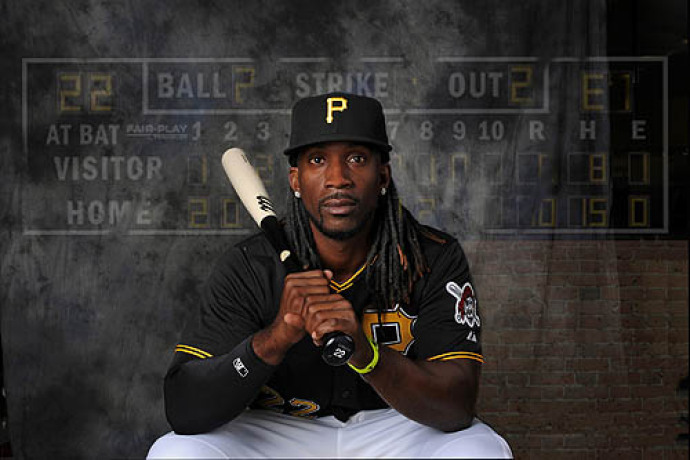 1. Mike Trout, Angels. When you're being compared to Hall of Famer Mickey Mantle, you must be doing something right. Simply put, Trout is the best all-around player in baseball and a triple crown candidate this season. The Angels were right to lock him up for years to come. He could lead the league in any statistical offensive category this year: homers, batting average, runs batted in, steals, you name it. He's the favorite for AL MVP by a landslide and Anaheim will be counting on him to get them to the promised land. Out of all the talented MLB center fielders, Trout is the cream of the crop.