NCAA Women's Basketball Championship Preview
It's a clash of the titans, a title game battle we've never seen before. The two undefeated teams in women's basketball, the 39-0 Connecticut Huskies and the 37-0 Notre Dame Fighting Irish, will face off in Nashville tonight to determine the national champion. It's the first time in college basketball (men's or women's), that two undefeated teams have met in the final and these teams are ready to take their shot at a perfect season.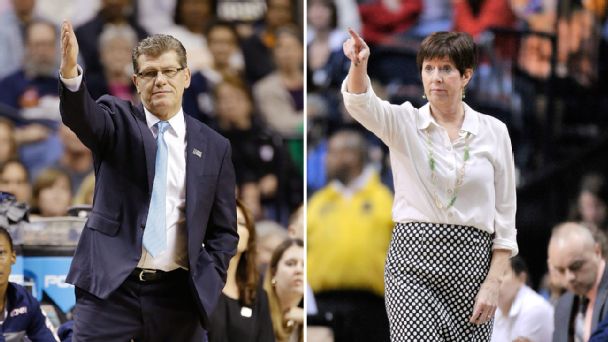 For UConn, a win tonight would make it the first time since 2004 that a men's and women's team both won it all in the same year. In '04, it was Diana Taurasi that led the Huskies to the championship in a season no one in Storrs, Connecticut will ever forget. It would also be the ninth title for coach Geno Auriemma, giving him more national championships than any women's coach in the history of the game (he's currently tied with Pat Summitt at eight).
The UConn women don't just hope to win championships, they fully expect them. Every year is title or bust and that's the culture Auriemma has built. He's a very demanding, perfectionist coach who always gets the best out of his players. Playing for him isn't for everybody and his current team shows that with their will to win.
Breanna Stewart, the do-it-all Huskies forward, has the potential to be the best women's player in the history of the game. She's only a sophomore, but she already has a national championship ring, Naismith Trophy, unanimous All-American selection and AP National Player of the Year Award. She's not the NCAA leader in any individual statistical categories, but she's scored 20% of UConn's points, and has 33% of UConn's blocks. She doesn't have Griner-like strength, but she finds a way to get it done every time to help her team win. She's not alone, however. The seniors, center Stefanie Dolson and point guard Bria Hartley, will have a major impact on this game as well. Dolson, who was named the Division I Defensive Player of the Year last night, has led the Huskies with 9.1 rebounds per game while adding 12.4 points per game. She's improved her rebounding total every year in her four-year career, also improving her assists numbers as well. She's one of the leaders of this team both in word and action, she'll be counted on to help UConn weather their toughest and final test of this remarkable season. Bria Hartley has been one of the best guards in the game for the entirety of her college career. She's a four-year starter who averaged 16.3 points, 4.4 assists and 3.6 rebounds this season. She cut down on her turnovers this year which has really helped the Huskies continue their pursuit of perfection. Hartley has been phenomenal when it comes to knowing her role. For her first few years, Maya Moore was the star, meaning her job, which she executed very well, was to complement her superstar teammate and run the point. Now, her job is to be a leader as a shooting guard, taking and making more threes than she had in the past. Whatever role Hartley takes on, she succeeds in.
The point guard, making everything go, is sophomore Moriah Jefferson. Jefferson became a starter this year and was a huge catalyst to this undefeated team. Her 10.2 points and 4.8 assists per game were enough to make her a Nancy Liebermann Award finalist and an All-America honorable mention. The defending champs, led by some of the best players in the nation, are favored by many going into this matchup.
Standing in UConn's way are the 37-0 Notre Dame Fighting Irish. The Irish are led by coach Muffet McGraw, who is the total opposite of Geno Auriemma. She's a player's coach, a calming influence whose motivation comes in a more passive form. This is obviously not a bad thing, as she's won four of the last six meetings against UConn. McGraw has not backed down against Geno, firing shots at him in the media in the weeks leading up to this clash. The two coaches have a clear dislike towards one another, similar to Geno's previous rivalry with Pat Summitt. The feud will not matter between the lines on Tuesday night, but it's a sidebar to watch.
As for McGraw's team, they took a big hit when Natalie Achonwa went down with a torn ACL in the Elite Eight win over Baylor. The extra motivation to win for "Ace," as she is called by her teammates, helped them to the semifinal win over Maryland, but her absence on the court may really hurt in the matchup against UConn. Taya Reimer is a quality role player, but against Breanna Stewart and Kaleena Mosqueda-Lewis, Notre Dame is now going to have some issues Natalie Achonwa could have fixed. Reimer has been thrown into the fire, and it will be interesting to see how she does against two All-Americans. Offensively, Kayla McBride, known as K-Mac by her teammates, will be responsible for a lot of the scoring. McBride has averaged 17.7 points per game on 48% shooting. With Achonwa out, she will probably need to score in the neighborhood of  the 28 points she had vs Maryland to give the Irish the boost they need. Helping her out will be stellar sophomore Jewell Loyd who's averaging 18.4 points on 52.4% shooting this year. She may end up scoring more than McBride tonight. In their Elite Eight game versus Baylor, she scored 30 points to help put away the Bears. Loyd is currently averaging 20 points per contest in this tournament. She's also an excellent defensive player, which will come in handy tonight against the speedy Hartley.
Facing off against Breanna Stewart will likely be Ariel Braker. Braker, a defensive-minded forward who pulled down five rebounds a game for the Irish will need to focus on boxing out and not allowing Stewart any second chances. Limiting Stewart to one chance will be huge tonight, because she'll cash in on her second opportunity at the basket 95% of the time. For ND, it's all about winning it for their senior leader, which means everybody has to pick up the slack and play their best game.
In conclusion, I expect a very fierce, tight game tonight. Both teams are obviously elite, talented teams who had two of the greatest seasons in women's basketball history. In the end, however, Breanna Stewart and Stefanie Dolson are going to be too much for Notre Dame to handle, especially without Natalie Achonwa in the lineup. Braker and Reimer will try their best, but in the end the frontcourt tandem is simply unstoppable. I'm picking the Huskies to repeat and win their ninth national championship. They'll be celebrating in Storrs, the basketball capital of the world this week, for the second night in a row. 82-70 UConn