Stanley Cup Positional Breakdown: Forwards
The Stanley Cup Playoffs are set, with the Los Angeles Kings and the New York Rangers ready to face off in the quest for hockey's holy grail. Storylines a plenty as the Kings try for their second title in three years and the Rangers hope for their first championship since 1994.
Leading up to Wednesday night's Game 1, I'll be breaking down the positional match ups between Los Angeles and New York. Today is forwards, tomorrow is defensemen, and Wednesday is goalies plus a series prediction. Let's break it down, starting with the forwards!
Kings forwards to watch
Anze Kopitar, center: 5 goals, 19 assists in 2014 Playoffs. Kopitar has led LA in points this postseason and he's been a workhorse, averaging 20 minutes of ice time a game. He's the facilitator, making the Kings' offense go with excellent passing, but the creativity to score at any moment. He skates very well for a guy with his frame, that makes him one of the best centers in the game. One of the most impressive stats about Kopitar that often goes overlooked is his five power play assists in these playoffs, which ties him with P.K. Subban for first in the NHL. He's a Conn Smythe (Playoff MVP) candidate and the player the Rangers will need to focus most on containing in these Finals.
Jeff Carter, center: 9 goals, 13 assists. Carter, the Kings' second-line center, is second to Kopitar in LA's playoff points leaders and would be the top-line center on just about every other team. Standing at 6-4, 200 pounds, he has an absolute rocket of a shot, which he displayed with a hat trick in Game Two of the West Finals against Chicago. LA looks to their centers to get something started on offense, and Carter is just as much of a threat (sometimes even more of one) to make a game-changing play as Kopitar. Look for 77 to make an impact and be the team's leading point-getter in these Finals.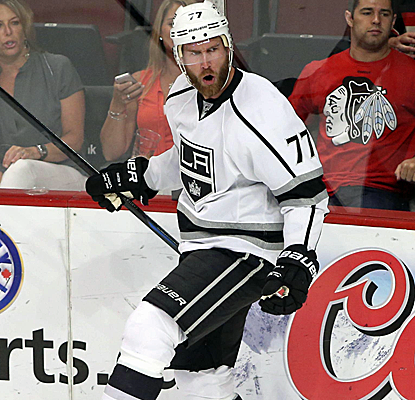 Marian Gaborik, left winger: 12 goals, 7 assists. Gaborik, Kopitar's linemate, leads the Kings in goals this postseason and has six points on the power play. He also has some extra motivation in these Finals: revenge. The 32-year old was a New York Ranger for three and a half seasons before he was traded to the Blue Jackets for Rick Nash in a blockbuster deal. He's a King now, but you have to think there's nothing he'd rather do than get back at his old team and win his first Cup.
Dustin Brown, right winger: 4 goals, 8 assists. Brown has not been as productive as linemates Gaborik and Kopitar these playoffs, but he's the captain and leader of this team. He knows the Kings are going to need some more of his shots to find the back of the net (he's had 65 shots on goal), but it's his gritty, physical style of play that inspires his teammates. He also plays up to the occasion when it matters most, with three points in the clincher against New Jersey in 2012. Don't overlook the captain, who will be counted on to have a great Finals.
Justin Williams, right winger: 7 goals, 11 assists. Multiple sportswriters (Yahoo! Sports and the Los Angeles Times most notably) noted that Williams is now 7-0 in Game 7s in his career, with 7 goals and 14 assists in those games. They've given him the title of "Mr. Game 7," and it fits. In a series that has the potential to go six or seven games, LA is going to need their production machine to play his best hockey when it matters most.
Tyler Toffoli, right winger: 7 goals, 6 assists. Toffoli, like Gaborik, has played out of position for this team and done an excellent job. A natural center, he scored four goals in the Conference Finals and has meshed well with Jeff Carter on the second line. The 22-year old is playing in just his second playoffs, which means his learning ability has been tested with all of the veterans with Cup experience. He's done a fantastic job, and his big-time scoring against the Blackhawks is part of the reason the Kings are here. With two game-winning goals these playoffs showing his clutch gene, he has the potential to be a household name by the end of these Finals.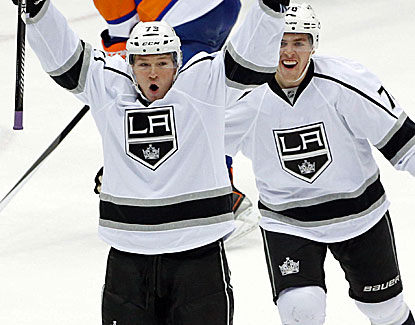 Rangers forwards to watch
Martin St. Louis, right winger: 6 goals, 7 assists in the 2014 Stanley Cup Playoffs. St. Louis, who is tied for the team's playoff scoring leader, has played with a lot on his mind these past few weeks. His mom, Frances, died at age 63 of a heart attack on May 8. The entire Rangers team was at the funeral, which showed an extreme level of support and compassion for their teammate. He hasn't been in New York very long (acquired at the trade deadline for Ryan Callahan), but St. Louis is already becoming one of the leaders of this team. His experience and example speak volumes, and the fans, who were upset when the captain swap went down, have quickly embraced their star. He's a consummate professional, and he will do everything in his power to win it all for his mom and his team.
Derek Stepan, center: 5 goals, 8 assists. The 23-year old Stepan had 40 assists in the regular season and is continuing to facilitate in these playoffs. He had a stellar Conference Finals, with three goals and four assists to help the blueshirts beat Montreal. Stepan is simply a playmaker on offense and is a consistent defensive player as well. He always knows where to be on the ice, and that doesn't go unnoticed by opponents. The Kings have a lot to handle with Stepan leading the first-line attack.
Mats Zuccarello, right winger: 4 goals, 7 assists. When Zuccarello makes a big play in Madison Square Garden, the crowd won't be booing. The familiar "Zucc" chant has reverberated around MSG this whole season, and he's been a big-time threat, mainly with dishing out pinpoint passes. He had 40 assists in the regular season and proved once again why he's an elite distributor in the playoffs, specifically in the Pittsburgh series. A unique fact about the speedy Ranger forward? He's going to be the first Norwegian-born player to play in a Cup Finals. He's already one of the best players to ever come out of Norway, and bringing Lord Stanley home would make him a national hero.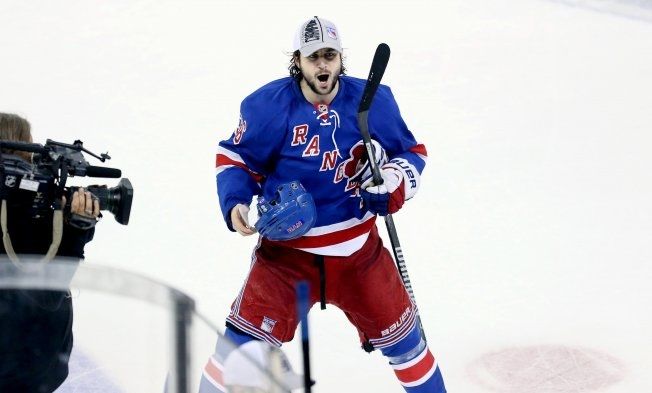 Brad Richards, center: 5 goals, 6 assists. Richards was the Conn Smythe winner as playoff MVP in 2004, when he paced the Tampa Bay Lightning to their first-ever Stanley Cup over the Calgary Flames. He and teammate Martin St. Louis will cherish that moment forever, but ten years later, the duo is going to be facing a whole different animal. After all, when comparing those '04 Calgary Flames and the 2014 Los Angeles Kings, it's clear that the Flames had fewer offensive weapons and firepower than these LA Kings. The offense will need to come to play if he's going to hold the Cup again.
Carl Hagelin, left winger: 6 goals, 4 assists. In the regular season, Hagelin scored 17 goals for the Rangers. In these playoffs, he's scored six. The young winger isn't afraid to get a shot off, and that has paid dividends for the Eastern Conference champs so far. Without Hagelin's scoring touch these playoffs, New York may not have been able to defeat the seemingly-dominant Pittsburgh offense. Number 62 has a great chance of becoming a star when these Finals are all said and done.
Forward Edge: Los Angeles. The stats don't lie, and the Kings have had the better offense in these playoffs. Check back tomorrow for the defensive matchup.