Thoughts on the 2014 NBA Draft
Fans, scouts, and front offices have been keeping tabs on Andrew Wiggins and Jabari Parker well before the young prospects could legally operate a motor vehicle. Now the long wait and anticipation is nearly over, as one of the more anticipated NBA draft is only a day away.
Before the festivities begin, I'll share my thoughts on some players in a Q&A format. Once the draft is complete , I will provide grades for every team.
  

Will there be any transcendental players in this draft?
Back in December, Jim Boeheim said he didn't believe that any of the players atop draft boards were "transcendent" a la Tim Duncan and LeBron James. It would be foolish of me to prematurely declare that the 2014 prospects will one day reach the heights of a James or a Duncan, but I firmly believe that a few of the players (listed below) will be very good NBA players and possess the talent to anchor a franchise. If I were a betting man, I would place a wager on, at minimum, two of these few being franchise players.
Joel Embiid (assuming he remains healthy)
-Before undergoing surgery, the leading consensus about Joel Embiid was that he should be the number 1 pick because his unique blend of natural fluidity, vertical size, deft skill, and big man instincts were indicative of a once in a generation (or two) talent at the center position. Embiid isn't only impressive in a physical vacuum; he also put up good per minute production, averaging 19.4 points, 14.0 rebounds, and 4.5 blocks per 40 minutes and reached college stardom in a very short time. Looking at Embiid's on court game, there aren't any glaring weaknesses that can't be remedied with more experience, especially given the fact that he began playing basketball late in high school. He needed to bulk up and did so, but will likely lose the mass because his immobility for a little while. Embiid will also need to  cut down on turnovers and fouls, both of which will be be addressed as he matures. By all accounts he is a great individual and  sports a very good work ethic. I am bullish on Embiid's potential to be a two-way force and centerpiece of a franchise if his health holds up in the future.
Andrew Wiggins
-Despite sharing similar concerns about Andrew Wiggins' game as his biggest critics, I defended the Canadian phenom throughout his freshman year at Kansas. I remain a big believer in Wiggins' talent level and ability to succeed in the NBA. Right now, he projects as an elite athletic slasher/ finisher who will be a versatile defender. While his jumper and handle need work to become an effective player at the next level, I feel as though it's his ability to create his teammates that will determine whether or not he will be a superstar. Wiggins doesn't have the best ball handling ability( as he doesn't protect his dribble with his body well or stay low enough), but he has very good scoring instincts and is a handful to keep out of the paint. I feel that his shooting will come along when he bends his knees more and takes better shots. When it's all said and done, I believe Wiggins will be one of the two best players to come out of this draft.
Jabari Parker
-What we've heard most about Jabari Parker since he set foot on Duke's campus is that he is the most "NBA-ready" of the prospects. A lot of that comes from his ability to score and be effective at all three levels—in the paint, midrange, and beyond the arc. Despite being somewhat slow laterally on the defensive end, Jabari is very agile and moves well for a player his size when it comes to offense. He can create his shot and has a bevy of advanced scoring moves to create space. While Jabari is a bit better at reading the floor than Wiggins, he too needs to improve his playmaking ability as time goes on. Jabari's glaring weakness is his defensive ability, which may be a byproduct of lacking foot speed to guard the perimeter and height to match up down low. Another question that Jabari faces is his ability to stay in prime physical shape, as it's well documented that he has trouble with weight gain. If Jabari keeps his weight in check and gives an honest effort on defense, I see stardom in his future.
Dante Exum
-Though I have only watched Exum play four times, I believe he has the talent to be the best player in the draft.  Exum in uncannily quick with the ball and has long strides—a combination that will make him very difficult to keep out the paint. I like Exum more at the shooting guard position where he can focus on mostly getting his shot while making plays for his teammates when needed. But with his length and lateral quickness, playing him at the point guard can increase his leverage on smaller guards. Once he continues to add weight to his frame, I expect Exum to guard both guard positions, and possibly even the small forward spot. If his jumper develops to a respected level, I believe that Exum will be the best player in this draft.
What are the most intriguing position battles?
-With one of the strongest drafts in recent memory, there is bound to be some competition among players at the same position.
Randle/Vonleh/Gordon/Payne
-The most tantalizing of all may be the battle of the power forwards, all of whom are very different players. On one end you have Julius Randle, a bruising power forward who is relentless on the boards. Randle's jumper will undoubtedly improve, but that along with increased defensive awareness is where he'll have to improve. Vonleh embodies the modern NBA big who can space the floor and do some work on the low block. He isn't a great leaper, but his 7' 4" wingspan is suffice when it comes to altering shots at the rim. With Gordon, a team is going to get a jack-of-all-trades-master-of-none type of player. Personally I thought Gordon was the best defensive freshman in the country and I expect that part of his game to translate to the NBA. Payne is the least heralded of all the top power forward prospects, but he is the most experienced and complete. He can hit outside jumpers, use adequate handle, and do some low post work (though he needs to get stronger). It's extremely difficult to say who will be best of this crop, but when I watch the tape I get the sense that Randle will be the top guy.
Ennis/ Napier/ Payton
-Marcus Smart and Dante Exum (if you call him a point guard) get most of the attention, but the next tier of point guards is just as capable of becoming productive players. Tyler Ennis is the smooth, pass first point guard who steered his team with pose and a poker face all year. What makes Ennis effective is his ability to create for his teammates using the pick and roll, in transition pass aheads, and passes off penetration. I am concerned about his ability to defend and hold up against more physical guards. His frame isn't very impressive and lateral quickness is lacking, which is why I'm not a fan of picking him in the lottery. Nonetheless, I think he has starter potential in the league. Shabazz Napier (Bazzoooo! Sorry for the reaction) is the elder-statesman and two time champion  possess a complete game. He can score with the best of them, create when needed, and be a pest on the defensive end. There are concerns with his average athleticism, but his exceptional handle and strong shooting ability will allow him to shake off the athletes at the NBA level. Elfrid Payton was always quietly on the radar of NBA front offices, but he began to gain more traction as time went on. He is the best athlete of the group and has very good physical tools (6′ 8" wingspan). He is extremely quick and gets in the paint at will, and did a lot for his team. His lack of shooting ability and defensive potential remind many of Celtics star Rajon Rondo. I'm going with Shabazz Napier as the best player out of this group because of his complete game.
Stauskas/ Harris/ LaVine
-Nik Stauskas, in my opinion, is one of the best players in this draft. If you give him any room to shoot, it's an automatic score as there is. He knows how to navigate screens well after being in John Beilein's system for two seasons. His handle is very good, as he can create his shot with ease and uses the pick and roll very well to set up scoring opportunities. Some may make the mistake of thinking he isn't athletic until he explodes and finishes above the rim. He has some issues defensively, but I believe that part of his game will improve when he bulks up. Garry Harris is tough as nails (given his football background) and is the ultimate complimentary player. He has one of the most complete two-way games of all players in the draft. Despite some average shooting numbers, his ability to knock down shots exceeds his production. Harris' defense is his best quality because he can slide his feet well, use his strong core to body up offensive players, and has a relentless commitment to pursue his defender. Zach LaVine is as intriguing a prospect as there exists in the draft. He has elite athletic tools,  is long, and has a lot of potential on both ends–aspects which the NBA covets.  However, at times his production trailed his actual talent level. Though LaVine came of the bench, he only scored only 8 points in three tournament games (!!!). He never seemed to find a niche in the UCLA offense and didn't really show any half-court offensive ability. Projecting all three, I see Nik Stauskas having the most success in the short and long term.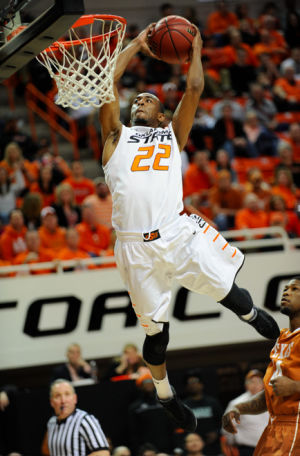 Who are the sleepers in the 2nd round?
Markel Brown
-I may receive flak for this statement, but I keep seeing Bradley Beal when I watch Markel Brown play. Beal is a bit taller, but Markel has a longer wingspan and is the better leaper. But the reason I conflate the two is because they were both undersized two guards who got their offense from spot ups and athletic drives while having the ability to handle the ball at times. Markel improved his 2-point, 3-point and free throw percentage every season in Stillwater. While Markel isn't a great passer, he upped his assist averages year after year while still remaining a low turnover player. Defensively he can still get better because of his athletic tools and be somewhat effective. He'll need to work on his handle to get spot minutes at the point given his size.
Russ Smith
-Never has a nickname perfectly embodied a player as 'Russdiculous' fits Russ Smith. He is an amalgam of basketball flare and flash. He can be an energy bunny at any level including the NBA. Despite being short and slight of frame, he possess very good athleticism, can create his own shot, and saw his efficiency rocket up during his senior season. He also showed scouts that he is able to play within himself and get his teammates involved. I see Smith being an impactful second unit guy who can uses the space in the NBA to his advantage.
Deonte Burton
– Burton never made the NCAA tournament with Nevada, but remained a durable and exciting player. He is an athletic player who has a knack for hitting difficult pull-up jumpers.
Jordan McRae
-McRae was somewhat unheralded despite posting good numbers in his last two seasons at Tennessee. He has some potential as a 3 & D role player in the league. His age and lack of muscle works against him, but make no mistake about it, McRae can play. It's about the right fit and opportunity for him.
Can Aaron Craft play in the NBA?
-The question so many people have pondered for four years will finally be answered in the near future. My answer to this question is a resounding yes! Now that doesn't mean he will be drafted or even receive serious interest from NBA teams anytime soon. He will likely have to continue his basketball career overseas, but there is no doubt in my mind that Aaron Craft will find a way into the NBA before he hangs up his jersey and pursues a medical degree. His jumpshot will need a couple years to become respectable, but he does possess some scoring ability. When he gets below a defender, he can get into the paint by protecting the ball with his strong body. He will need to employ a floater to compensate for his lack of vertical explosion. The space in the NBA will allow him to use his pull-up jumper off of pick and rolls, especially because teams will force him to shoot. Craft is pretty darn good at driving and finding a shooter despite his tendency to just put his head down and not read the floor. Defensively you know what you will get from Craft, even though his impact will not be as pronounced because the floor will not be as cramped as it was in college. All it takes is one team to like Craft and rely on him to be a pest on defense and a guy who brings the ball up to initiate the offense.