Thoughts of the Day 2014 NFL Preview: 20 Predictions
Finally, football is back! After a long offseason and preseason, it's time to kick off the NFL regular season. There's a lot of excitement and intrigue heading into 2014, so let's get down to some predictions!
Who will win their division? Who will win awards? Who will win the Super Bowl? Let's do it!
1. Aaron Rodgers will win NFL MVP. Peyton is going to have another stellar year, but Aaron Rodgers will be rewarded for doing more with less. His receiving corps is far from the best in the league, but his stats are going to stay otherworldly and the Packers are going to take home another NFC North title. Think of the job Brady last year with New England, only without the same early statistical struggles. I expect around A-Rodg to throw for around 4,300 yards with 38 touchdown passes and only five or six interceptions. Number 12 is my pick for MVP.
2. Aaron Rodgers will win Offensive Player of the Year. Refer to #1.
3. Lavonte David will win Defensive Player of the Year. If you haven't heard of Lavonte David yet, you're behind the eight ball. The third-year linebacker from the University of Nebraska followed up a solid rookie season with a spectacular second year, with seven sacks, 145 combined tackles and five interceptions. He was named to the All-Pro first team as a reward for his breakout season, and new Bucs coach Lovie Smith compared him to newly-minted Hall of Famer Derrick Brooks. He may have a solid point there; in Brooks's first two NFL seasons, he had 74 fewer tackles and five fewer picks than David. The third season is where many players make the leap from "really good" to "great," and I don't expect David to be any different. After all, Luke Kuechly took home DPOY last year in his second season; maybe a trend is starting in the league?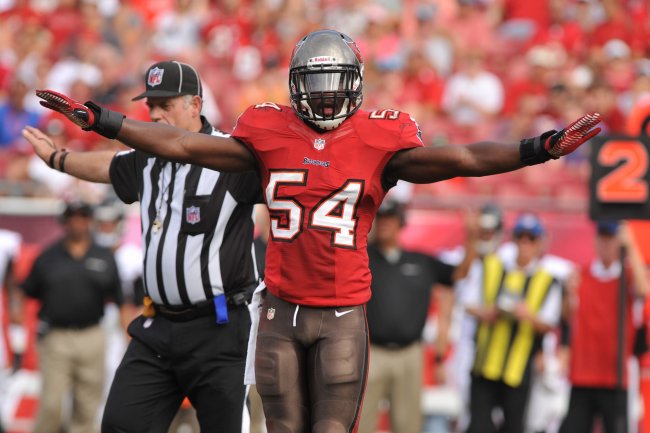 4. Kelvin Benjamin will win Offensive Rookie of the Year. Cam Newton starts the season with virtually no offensive weapons; running back Jonathan Stewart may be his best returning option when it comes to catching passes. Enter Kelvin Benjamin, who showed in his career at Florida State that he can be a dominating receiver on Sundays, with a national championship ring to support his case. He's the first-string wideout and much less injury-prone than Bills receiver Sammy Watkins, which should make him a favorite for the award in a year without a sure-fire starting rookie QB. If Carolina is going to get to the postseason once again, they're going to rely on their young pass-catcher.
5. #1 pick Jadeveon Clowney will win Defensive Rookie of the Year. When was the last time there was a linebacker more NFL-ready than Clowney? The bone-crushing hitter from South Carolina joining All-Pro defensive end J.J. Watt in the same defense is going to be a major problem for offenses, which Houston will need with an offense as disorganized as theirs looks. Clowney's going to rack up the tackles and sacks and might make a game-changing play or two, like what he did against Michigan in the 2013 Outback Bowl. When it comes to defensive rookies, he's in a class all by himself; no one comes close.
6. Julio Jones will win Comeback Player of the Year. After a debilitating knee injury befell Jones last October, Atlanta faltered and finished a very uncharacteristic 4-12. This year Jones will be back with a vengeance, and Matt Ryan will be the beneficiary. Expect 80-plus receptions, double-digits touchdown numbers and well over 1,000 receiving yards for the Falcons' top target in 2014.
7. The Patriots will win the AFC East. New year, same old East. If New England could overcome all of its issues in 2013 to win the division, they will dominate with a revamped defense that includes new signee Darrelle Revis and former LOB corner Brandon Browner. The Pats finally have a good secondary for the first time since Rodney Harrison retired, and that's a good sign for Bill Belichick's group. Offensively, Gronkowski is back, which means Tom Brady's numbers will be decidedly better as long as he stays healthy. Look for Julian Edelman to become more than a slot option this year and being more complete; he showed a little deep-ball potential last season and will continue to branch out as he becomes more comfortable being "the man" at wideout. Brady will never have a year as rough statistically as last year, and he'll never lose a division either.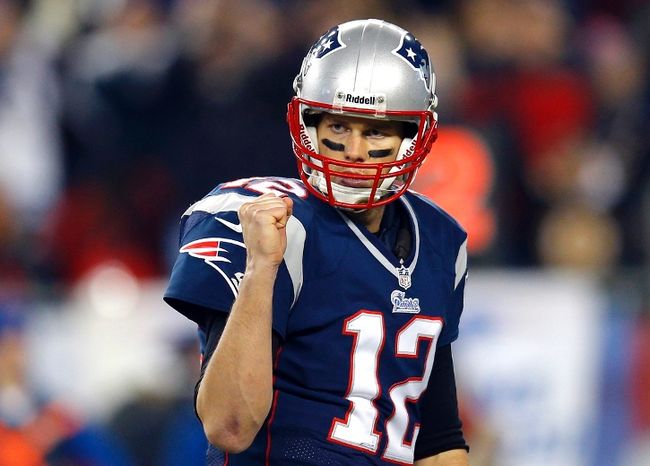 8. The Ravens will win the AFC North. The Bengals have had a nice run atop the AFC North, but that run is about to come to an end this year. Baltimore caught a huge break with Ray Rice only getting suspended for two games; last year's disappointing running performance was a fluke. The offseason additions of tight end Owen Daniels and wide receiver Steve Smith make this a much-improved offensive attack, and Joe Flacco is certainly excited to get the ball rolling. The defense still has what it takes to go deep in the postseason, with rookie C.J. Mosley joining a fierce linebacker core. Terrell Suggs will take Mosley under his wing and impart his veteran leadership on the young stud. Ravens over Bengals, at least for now.
9. The Colts will win the AFC South. In the weakest division in football, Indianapolis will run away with the title. In addition to Andrew Luck being a legitimate MVP contender closing in on elite QB status, the Colts bolstered their defense by picking up Arthur Jones, D'Qwell Jackson and Mike Adams. Even if Luck gets injured as some point this season, 38-year-old Matt Hasselbeck is still better than the starters for Tennessee, Houston and Jacksonville. Everything's coming up roses for Indy, who will feast on the inferior competition in the AFC South.
10. The Broncos will win the AFC West. After the embarrassing Super Bowl loss to Seattle, Peyton and company have even more motivation coming into 2014. Wes Welker's four-game suspension and Eric Decker's departure hurt a bit, but Manning still has Demariyus Thomas, Julius Thomas and Emmanuel Sanders to throw to until his favorite slot guy returns. The addition of veteran defensive end DeMarcus Ware is most intriguing to me. The 32-year old may be exiting his prime, but if the injuries hold off he's going to have another productive year getting to the quarterback. Denver still has the formula for success, albeit a less potent one.
11. The Eagles will win the NFC East. The East will be the same downtrodden division we've seen for the past four years, where it seems like nobody wants to take it. The addition of Darren Sproles to an already-loaded offense makes Philly the team to beat once again. A burning question: can Nick Foles replicate his 2013 performance?
12. The Packers will win the NFC North. It's a two-horse race, but the Pack retain the edge because last year's Week 17 game exposed the Bear's biggest weakness: their run defense. Sounds odd for a team historically known for their its D, right? Maybe Jared Allen can help right the ship, but until then Green Bay is the favorite.
13. The Saints will win the NFC South. Drew Brees recently said he wants to play until he's 45, and that doesn't seem so far-fetched. He's as healthy as ever, still putting up video game numbers. As long as he and Sean Payton are teaming up, New Orleans will always be favored to win the division. The Falcons are going to give them a run for their money this year, but in the end Brees and tight end Jimmy Graham (who will be able to dunk the ball through the goalpost because the NFL will realize how ridiculous a rule that is) are going to lead this team to the postseason.
14. The Seahawks will win the NFC West. The Legion of Boom is back in action, with the best corner in the game/Madden cover athlete ready to back up his trash talk again. Russell Wilson has been criticized for being a "game manager," but that's one of the most overused terms in football. I'd rather have a QB who controls the game and doesn't take unnecessary risks than a gunslinger who can't seem to get it done in crunch time (sorry, Tony Romo and Phillip Rivers). Marshawn Lynch had a nice vacation during training camp but is back and ready to go "Beast Mode" on NFC defenses. With a loaded squad on both sides of the ball, Seattle will win the division while San Francisco will settle for second.
15. AFC Wild Card teams: Bengals and Chiefs
16. NFC Wild Card teams: Bears and 49ers
17. AFC Championship: Patriots beat Broncos
18. NFC Championship: Packers beat Seahawks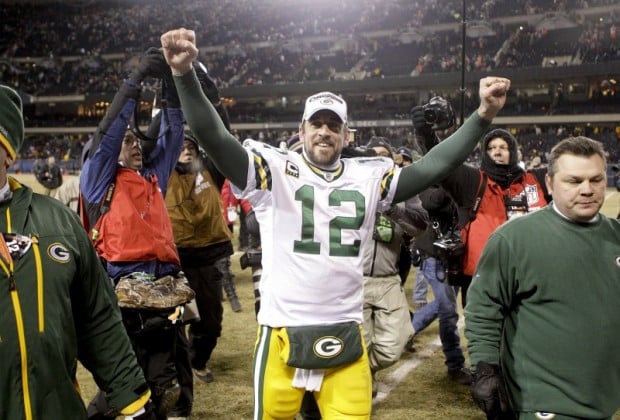 19. Super Bowl: Patriots beat Packers
20. Tom Brady wins Super Bowl MVP
I've got the Pats. It's finally time for Brady to get that fourth ring. Agree? Disagree? Drop a comment or tweet me @chuckiemaggio. Let the season begin!