What an emotional night in Tiger Stadium. Not even 24 hours after receiving the news of his Mother passing, LSU head coach Les Miles and his 24th ranked Tigers went out and defeated the 3rd ranked Ole Miss Rebels in thrilling fashion. Playing the role of spoiler and keeping their slim hopes alive in what looks to be a memorable finish over the last month of the season in college football's best division.
24 LSU 10  3 Ole Miss 7
It was always my belief, that Ole Miss quarterback Bo Wallace, would eventually lose a game for the Rebels. To be fair, the final seconds of the game aren't the only thing that lost Ole Miss the game. But, it's plays like the Rebels final play from scrimmage that a senior quarterback is expected to make the right play. On the Rebels final drive, head coach Hugh Freeze, decided to kick a potential game-tying 42 yard field goal on third down. The Rebels were then flagged for delay of game. A five yard penalty then made it a 47 yard attempt. Freeze, then decided with 9 second left, the Rebels had time for another play to gain a few more yards for the field goal attempt. Wallace, didn't follow that thinking and lofted a pass toward the goal line into double coverage, that was picked off by LSU defensive back, Ronald Martin.
Wallace, simply made the wrong play. Instead of playing for overtime by hitting a shorter route to get out of bounds and stop the clock, find a receiver open for a first down in which would also stop the clock, or simply throw the ball away, he decided to go for the big play to win the game. It's questionable whether or not the play would have scored anyway, or if the Rebels would have had enough time to spike the ball and get the field goal team on the field. Terrible decision. But, as strong as LSU played defensively, this game outlined just how inconsistent the Rebels are offensively.
For LSU, playing the role of spoiler isn't what they look to do on a year to year basis. But, in this case they played it pretty well. The Tigers are much different team from the one that left Auburn with a 41-7 loss a few weeks ago. The running game has been ignited, as witnessed by Leonard Fournette's 113 yards rushing. The defense has also stepped up it's play. The Tigers chances of winning the SEC West are slim at best. But, the Tigers still have a lot to play for. Saturday's game marked the 24th time that a Les Miles coached LSU team has made a 4th quarter comeback. Amazing! One thing I still don't understand is why LSU students rushed the field. You're a championship level football team, year in year out. You should expect to win games like this.
1 Mississippi State 45  Kentucky 31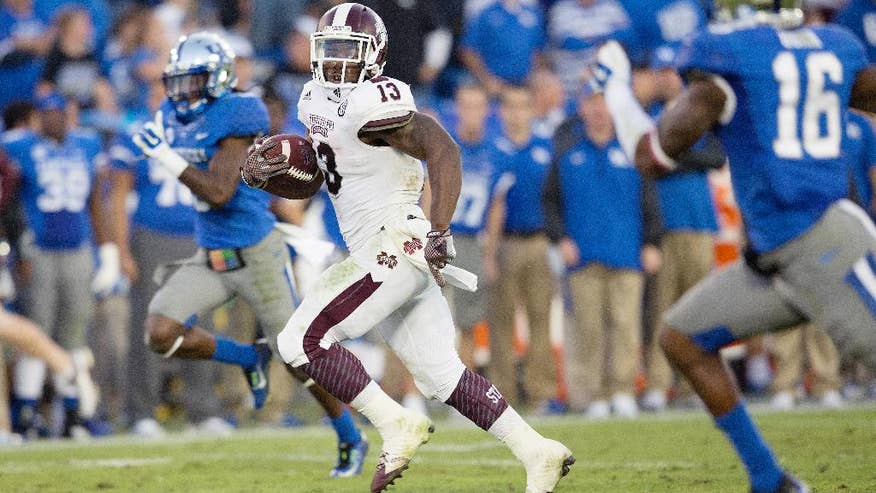 The big question after the Mississippi State Bulldogs defeated Auburn and soared to the No. 1 ranking in the polls was how would they handle it? How would they handle being the Top Dog, instead of being the underdog? They handled it quite well, thank you. They weren't perfect, but an SEC road win against anyone is truly something to cherish. Especially, against the Wildcats who are much improved and are eventually going to beat someone they aren't supposed to.
State was led by Josh Robinson's 198 yards rushing and 2 TD's. Dak Prescott had a solid game in his pursuit of the Heisman Trophy. Prescott, ended the day with 216 yards through the air, and 88 yards on the ground. He had 3 TD's (2 rush 1 pass) and 1 interception. The Bulldogs now get ready for a visit from Arkansas, and the Wildcats will prepare for a trip to Missouri.
5 Auburn 42  South Carolina 35
Just when you think the 'Ole Ball Coach' can't do it anymore. He does it. Well, he almost did it. No one gave the South Carolina Gamecocks a prayer to win this game at Auburn. But, Steve Spurrier somehow drew up a game plan and his players executed that plan extremely well. The game went back and forth all night. But, give Gus Malzahn and his Auburn Tigers credit. When, they needed to make plays they made them. In the end, the Tigers are still in line to accomplish all of their goals and after the first College Football Playoff standings were announced, the Tigers sit at number 3. One of three teams from the SEC West to grace the top 4.
Auburn was led by Nick Marshall's 4 TD's (3 rush 1 pass) 89 rushing and 139 yards passing. Cameron Artis-Payne also rushed for 167 yards and a score. The Gamecocks were led by quarterback Dylan Thompson's career night. Thompson, had 402 yards through the air and 5 TD's. Definitely not a good night for either defense. But, it definitely raises more questions about Auburn's D as they enter the crucial part of their schedule. At Ole Miss, at Georgia, and at Alabama. Brutal!
In other SEC action…..
4 Alabama 34  Tennessee 20 – Bama coming off scoring 59 against Texas A&M, got off to another fast start in Knoxville. The Tide led 27-0, and it looked like they would put up 50 again. But, the Vols responded and briefly made it a game behind backup QB, Joshua Dobb's breakout game (192 yards passing 75 yards rushing 2 TD's). Amari Cooper set a school record with 224 yards receiving and Blake Sims threw for 186 yards for 2 TD's and ran for another score to lead the Tide.
Missouri 24  Vandy 14 – Mizzou QB, Maty Mauk continued to be shaky, as he completed only 47 percent of his passes. But, it was the running game (244 yards rushing) that did the damage. Somehow, the Tigers are 6-2. How? I don't know.
Arkansas 45  UAB 17 – The Hogs had no trouble from the start against the over-matched Blazers. The Razorbacks used various sources to score in a variety of different ways. Including a pass from offensive lineman, Sebastian Tretola, on a fake field goal where completed the 6-yard pass to long snapper Alan D'Appollonio. Unlikely sources for sure. Running backs Jonathan Williams and Alex Collins combined for 235 yards rushing and 2 scores in the win.
Player of the Week:
This week we have co-players of the week. Alabama's Amari Cooper, and Josh Robinson of Mississippi State. Both performances were too good to not give them the credit they deserve. Cooper, continued his assault on the Alabama record books for receivers with his 224 yards and 2 TD's. Robinson, came up just two yards short of 200 against Kentucky for 2 scores of his own. Both players have been very instrumental, not just this week, but the entire season to their team's success.