16 Players to Watch In the Sweet 16
—
How sweet it is!
As the month of March enters a twilight, sixteen of the nation's best look to punch their respective ticket to the Elite 8. During the first weekend of the tournament, there was everything from surprising upsets to feel-good stories to record-breaking TV ratings. With the bar set high, the teams in the sweet 16 have a tough following act. Below I take a look at 16 of the most important players for their respective team.
1. T.J. McConnell
If there's a better leader than Arizona's T.J. McConnell, then you'll have to point him out, because I don't know of one. Ever the consummate point guard, McConnell has led his Arizona team to the sweet 16 with balanced and efficient play. In the tournament, McConnell has scored more than he usually does, particularly in the game against Ohio State, in which he put up 19 in a winning effort. As always, McConnell has been a hawk on the defensive end, tallying a combined 9 steals in the two tournament games. On Thursday night, McConnell will look to slow down Xavier's lead guard, Dee Davis, who has been putting up solid scoring numbers as well.
2. Jahlil Okafor
Duke's super-freshman has exceeded the lofty expectations placed on him throughout his stellar freshman season. Okafor continued his good play in his first two tournament games, averaging 23.5 points per game on 78% shooting. Against San Diego State, he didn't look the least bit bothered by Steve Fischer's staunch defensive scheme, which is predicated on doubling post players. Okafor looked to be more engaged on the defensive end and improved his free throw shooting by a little. Both of the aforementioned aspects are critical for Duke to advance. On Friday night, Okafor will go up against his most difficult match-up of the tournament–Jakob Poeltl. Poeltl is averaging 15 points on 93 % shooting thus far in the tournament, and will pose some problems for Okafor given his length.
3. Frank Kaminsky Dez Wells knows that Kaminsky isn't "God", but every coach in America knows that if you want to defeat Wisconsin, it starts with limiting the senior big man. Wisconsin's offense usually doesn't feature one player, but when you are as skilled as Kaminsky, exceptions are made. From inside-out, Kaminsky is dangerous, which is why shoots well over 50% from the field and over 40% from deep. North Carolina's big men are not used to having to close out on the perimeter, meaning that Kaminsky will have the opportunity to take advantage of them with the shot fake, dribble, pass, or just an open jumpshot.
4. Fred Van Vleet
The junior lead guard has been the linchpin for the Wichita State Shockers in their first two tournament victories thus far. Against Indiana, he took on the scoring responsibility, putting up 27 points and getting to the line 10 times, of which he converted on 9 of them. In the showdown with the Kansas Jayhawks, Van Vleet had a tough shooting night, but contributed in other areas–grabbing 6 rebounds, getting 6 assists, nabbing 4 steals, and making two 3-pointers. The Shockers will face Notre Dame next, and Van Vleet will be one of the instrumental players trying to corral their guard attack while attacking on the offensive end.
5. Devin Williams
Going up against Kentucky's front line will most likely be the biggest test of Devin Williams' basketball career. Nevertheless, the chiseled forward is more than up to the task of facing off against the slew of 7 footers Kentucky has to offer. Williams is a big reason why West Virginia is one of the nation's  best offensive rebounding teams, as he averages nearly 3 per game. Offensive rebounding will be crucial as West Virginia is not a good shooting team and Kentucky has proven to be occasionally weak at defensive rebounding.
6. Branden Dawson
One of the reasons why Tom Izzo was so emotional after Michigan State's win against Virginia was because of the effort and grit his team displayed after being inconsistent during the regular season. Senior Branden Dawson was one of the players whose motor was not always high as Coach Izzo wanted throughout the season. But against Virginia, Dawson played like a mad man,  running the floor like a gazelle. He finished the game with 15 points, 9 rebounds, and 4 blocks. Izzo knows how good Dawson can be when he plays instensly, and the Spartans will need him to negate Oklahoma's solid frontcourt of TaShawn Thomas and Ryan Spangler.
7. Marcus Paige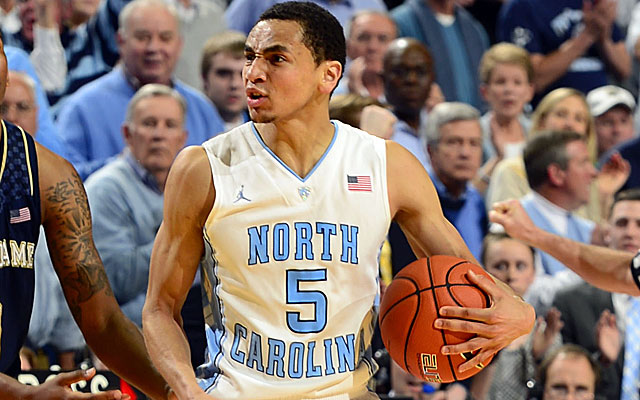 For the better part of the last two seasons, Marcus Paige has been the bellwether for the Tar Heels. If he does well, they usually follow suit, and vice versa. The tournamet is no different, and boy, will they need for Paige to be at the top of his game against the Wisconsin Badgers. In the game against Arkansas, Paige did not shoot well but still got to the free throw line 9 times, scored 22 points, and had 5 steals. An interesting stat from that game is that Paige had 0 assists, which only happened one other time this season. He may need to go into full scoring mode against Wisconsin as well to pull off a victory.
8. Jerian Grant Grant came back to school for a shot to go deep into the tourney, and he has a shot to take Notre Dame to the elite 8. Standing in his way will be Ron Baker, who will challenge him on both ends of the floor. But Grant hasn't averaged 16.8 points and 6.6 assists per game in the best conference in America for nothing. In the overtime thriller against Butler, Grant scored 17, had 5 assists, and grabbed 5 rebounds.The All-American's stat-sheet-stuffing ways should be no different against Wichita State.
9. Willie Cauley-Stein
A year ago, Cauley -Stein only played 4 minutes before injuring his ankle, which kept him out for the rest of Kentucky's tournament run. There's no doubt that Cauley-Stein wants to makeup for that missed time, starting with West Virginia. After being in foul trouble and only pulling down 2 rebounds against Cincinnati, it is imperative for him to stay on the court to help with rim protection. The West Virgina guards are going to make a beeline towards the rim, and it would help for Cauley-Stein to be there to alter shots.
10. Kevin Pangos
Pangos makes the Zags go. Even though he always pushes the ball in transition, he remains a low turnover, highly efficient player. If the Zags are going to rectify their history of tournament disappointments, Pangos will have to continue his efficient success. They will face the UCLA zone on Friday, and the teams offensive success will depend on how Pangos navigates the zone in the halfcourt. He should have no problems shooting open shots, as he is a 45% shooter from deep.
11. Norman Powell
Coach Steve Alford has full faith in his mature senior leader. Powell has been a workhorse thus far in the tournament, playing 39 and 38 minutes in the two tournament games. He was the team's leading scorer all year, but his calling card remains his perimeter defense. When UCLA switches to man defense, Powell will be needed against the likes of Pangos, Wesley, and Bell.
12. Terry Rozier
With fellow guard Chris Jones dismissed, Lousille needed Rozier needed to step up, and he has done just that lster in the season carrying over into the tournament. After securing the game-sealing steal against UC Irvine, Rozier came out against Northern Iowa with a vengence. He scored 25 points, had 7 assists, and pulled down 5 rebounds. In both games, Rozier has played 39 minutes, which tells you how important he is to this team's success. Rozier's play will be crucial against guards Cat Barber and Trevor Lacey, who are coming off solid performances against Villanova.
13. Jakob Poeltl
Delon Wright is Utah's best player, but Poeltl will have the most important task on Friday night. He will be matched up with Jahlil Okafor. Not one team or player has figured a strategy to prevent Okafor from doing whatever he wants to do in the post. It will be imperative for Poeltl to use his length to bother Okafor, but also keep him honest by attacking his legs on the other end. If the freshman from Austria can have any success against his fellow freshman, he will give Utah that much better of chance of beating Duke.
14. Buddy Hield
Hield has been subpar shooting the ball in Oklahoma's two tournament games. While that may not have been a problem against Albany and Dayton, the Sooners will need their leading scorer to be at his best against Michigan State. He'll also need to be solid on the defensive end, as he'll likely be matched up on Denzel Valentine, who can light it up at any time.
15. Matt Stainbrook
After giving his scholarship to his younger brother, Stainbrook has become an Uber driver. But the question is whether he can drive xavier past the imposing Arizona frontline? Stainbrook is very skilled and has soft hands, but isn't the most explosive athlete around, meaning he will have to find angles to score around Brandon Ashley and Kaleb Tarczewski, who both boast lengthy wingspans. Stainbrook is also a high level rebounder for the Muskateers, and that aspect will be an absolutely crucial aspect as the game is likely to be a grind.
16. Abdul-Malik Abu
Coach Mark Gottfried has been on his freshman forward about playing with aggression all year. Against Villanova, that aggression was on full display as he bullied any Villanova player in his way to the tune of a 13 point, 12 rebound performance. Against Louisville, Abu's aggressiveness will be needed even more because forward Montrezl Harrell's motor is always running high. If NC State is to win, Abu will have to control the boards just as he did against Villanova.