Thoughts of the Day 4/13/15
Today's Thoughts of the Day…
Jordan Spieth did more than just dominate the holy grail of golf tournaments this weekend; he became a superstar and role model in the process. The record-breaking performance the 21-year-old had- breaking four records in total and tying one as well- was outstanding, but even more admirable was the way he carried himself.
As he walked to the 18th hole, with the gallery buzzing in anticipation of his winning moment, Spieth made sure to acknowledge the fans who were left awe-struck by him all week. As the cameras followed him the whole way, he repeatedly said "thank you" to the spectators, nodding his head in appreciation. This is often seen as an obligatory gesture in the world of golf, but the Texan went above and beyond in making sure he let the paying customers knew he felt their presence.
After Spieth made a rare but harmless missed putt on that 18th hole, he tapped in and the celebration began. Like he had been all tournament, the newest Masters champion was cool as a cucumber as he embraced his family and friends. Not only is the newly-minted star a class act on the course, he's a family man off it, and his relationship with his 14-year-old sister, who is autistic, makes him even more of an example for young athletes to follow.
Sometimes, good guys don't finish last. Sometimes they win the whole thing and become a household name over four nights; Jordan Spieth is proof.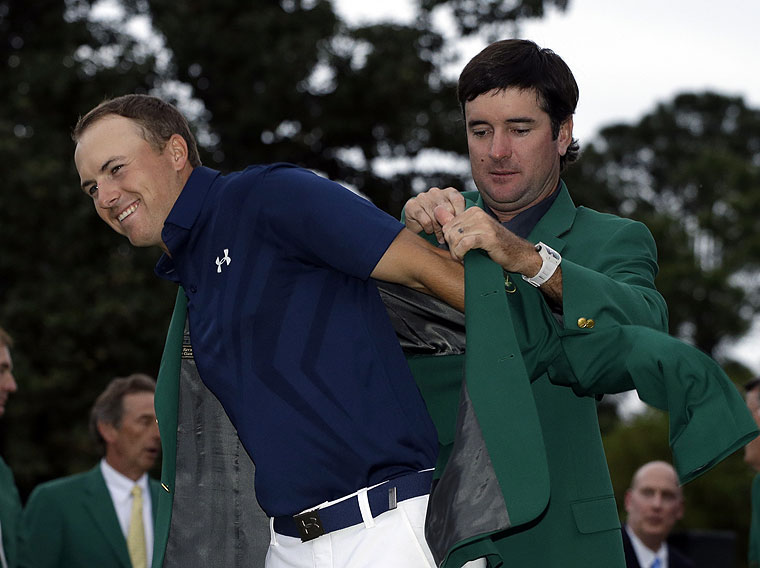 Tiger's performance at Augusta was certainly an encouraging one. Finishing in a tie for 17th while shooting five-under for the tournament exceeded my expectations, as I thought he'd shoot closer to even. If Woods can replicate his performances in rounds two and three at the U.S. Open and play a completely healthy 72 holes (he injured his wrist after hitting a root on Sunday), that Sunday red may inspire some fear again.
Despite his strong performance, the 39-year-old continues to be a television network's worst nightmare with his language after bad shots. While it is a comfort for recreation golfers to know that one of the best to ever do it has the kind of potty mouth we are all guilty of at times on the course, Tiger comes across as unprofessional and disrespectful. His competitors aren't cursing audibly enough for the mics to pick it up as well as throwing clubs and having temper tantrums, so why can't he control himself? It seems like he will never understand or care about his perception as a spoiled brat.
The Sabres fired Ted Nolan yesterday, and it seems like an unfair axing. After all, the goal of the entire season was to tank for the worst record in the league, and that's exactly what Buffalo did. When the man was set up to lose and he did, he didn't deserve to be given a pink slip, unless GM Tim Murray thinks the franchise can grab a big-name coach to replace him. It will be an interesting offseason in the 716 area code.
As for the Stanley Cup Playoffs, I'm going with the St. Louis Blues to defeat the Tampa Bay Lightning in the Finals. St. Louis will face some roadblocks on the way- Minnesota, Nashville/Chicago and Anaheim are all formidable foes- but has the horses to get it done this year. The Blues are the top offensive and defensive team in the league, with a powerful winger in Vladimir Tarasenko and two quality goalies in Brian Elliott and Jake Allen. The team that has never won a Cup is long overdue.
The Lightning will make it out of the East thanks in large part to a healthy and dynamite Steven Stamkos leading the way and two fantastic facilitators in Tyler Johnson and Ondrej Palat. You cannot overlook the goaltending, however, and netminder Ben Bishop is extremely intimidating back there with his 6-foot-7 frame. Tampa will make it to the big stage, but the Blues just have too much firepower.