Washington Wizards Draft Needs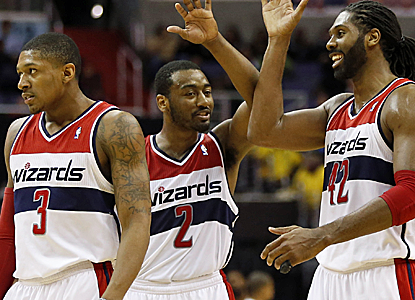 The Wizards are not far from serious contention. (Photo Credit: USATSI)
---
The 2014-15 Washington Wizards suffered a disappointing ending to their season after losing to the Atlanta Hawks in the Eastern Conference Semi-Finals. While frustrated, the Wizards can still take solace in the fact that they have knocked on the door of the conference finals in two consecutive seasons. Now it's up to front office management to see what can be done to push the team to the next level, particularly through the upcoming draft. The Wizards will have the 19th and 49th overall picks in the 2015 NBA Draft–solid positions to address some of their most pressing needs.
Young backup power forward or potential replacement for Nene
The power forward spot for the Wizards is a tricky one. While Nene manned the spot for most of the minutes, he will be on the last year of his contract next season and is already 32-years-old . Drew Gooden, who provided some floor spacing ability is an unrestricted free agent, and Kris Humphries was barely used in the post-season, as evidenced by his average of 5.0 minutes per game. It would behoove the Wizards to look into the services of a young forward, especially one who can provide some floor spacing for the future.
Possible Candidates:
-Kevon Looney:
The UCLA product boasts a 7'3.5" wingspan and has the ability to hit shots out to the three-point line (41% in college).Looney is also a very good rebounder despite his frail frame, especially on the offensive boards. His talent may be too tantilizing for him to be available by time the Wizards are on the board at 19, but he is definitely an option.
-Bobby Portis:
Portis is another big who can space the floor and has long arms (7'2" wingspan). He can  operate out of the post a bit more than Looney due to his solid frame and is a better free throw shooter. Portis is expected to be picked somewhere outside of the lottery, and may be available for the Wizards if he slides.
-Trey Lyles:
The 6'10" power forward was one of many big men on the Kentucky Wildcats, and was often overlooked due to the immense amount of talent on the team. However, Lyles brings a lot skill to the four spot– one of the reasons he was able to thrive on the wing at Kentucky. He has proven to be able to make straight line drives, shoot the mid-range jumper, and even bang a bit down low.
Other possible options: Montrezl Harrell (Louisville), Christian Wood (UNLV), Jordan Mickey (LSU), Jonathan Holmes (Texas)
—
Long-term backup point guard
John wall is an exceptional talent and has the ability to play near 40 minutes every night, but injuries are a grave reality, which was the case in the playoffs (although not serious). Having a viable backup who can create for others and himself would be optimal. It is unclear if the Wizards are fully committed to current backup Ramon Sessions (and vice-versa), who comes off the salary books after next season. Will Bynum, who the Wizards brought in near the end of the season is now an unrestricted free agent.
Possible Candidates:
-Tyus Jones:
The 6'0" point guard is fresh off a national championship and has the skills to warrant a solid draft position. While his stature is small, he would immediately rival Wall in terms of court vision and the ability to set up his teammates. Jones is by no means a sharp-shooter, but he remains a reliable long range shooter. He should be available somewhere around the back end of the first round.
-Jerian Grant:
If the Wizards want a taller guard, they can draft Jerian Grant. The former Notre Dame point guard possesses a very high basketball IQ and can the run the pick and roll with ease to score or assist. While he can improve as a shooter, Grant has NBA lineage and is a mature guard who can contribute right away.
-Andrew Harrison:
A Kentcuky 1-2 option is not a bad pairing. Harrison is a big point guard who can bully opponents and will excel with the extra space in the NBA. While he had rocky moments at Kentucky, Harrison was always a winner and showed flashes of his ability to attack big men on the pick and roll.  He will be an underrated player in this draft.
Other possible options: Delon Wright (Utah), Terry Rozier (Louisville), George De Paula (International)
—
Backup shooting guard
While John Wall was able to pick up the slack when Bradley Beal missed 19 games this season, it would be in the Wizards' best interest to have a more talented backup to lighten the load. Garret Temple, who played 14 minutes per game, has a player option for the upcoming 2015-16 season. Martell Webster is on the books for a couple more seasons, but doesn't really offer the Wizards much scoring punch. The scoring talent at this position must improve.
Possible Candidates:
-Justin Anderson:
Armed with an NBA body, Justin Anderson has serious potential to be a 3-and-D player in the league. While it isn't certain if Anderson is the 29% 3-point shooter from his sophomore year or the 45% 3-point shooter from his junior season, he is likely to be a reliable shooter. He is a solid defender who is blessed with good athleticism and strength to play against bigger opponents. Anderson should be available for the Wizards to pick at 19.
-R.J. Hunter:
The NCAA tournament darling has always been on NBA scouts' radar. He is known to be a solid outside threat, despite shooting a meager 30% from three this past season. Hunter can handle the ball and operate out of the pick and roll. While very skinny, Hunter has potential to be a solid defender, especially when creating turnovers.
-Rashad Vaughn:
Vaughn is a flat out bucket getter who can shoot the NBA with ease. He must improve his handle and cut down on turnovers, but at 6′ 5" there is no doubt that he can get his shots to fall at the next level. If Vaughn wants to be a good defender, he must be committed because he doesn't have elite athleticism or a long wingspan.
–Other possible options: J.P. Tokoto (UNC), Michael Frazier (Florida), Joseph Young (Oregon)