Assessing the Grizzlies-Cavaliers trade
First reported by ESPN's Brian Windhorst, the Memphis Grizzlies and Cleveland Cavaliers have agreed to a multi-player trade.
In the deal, the Grizzlies send fifth-year forward Marresse Speights, fourth-year shooting guard Wayne Ellington, second-year combo guard Josh Selby, and a furture first-round pick to the Cavs in exchange for second-year forward Jon Leuer.
The Grizzlies had been rumored to be fielding calls for potential cost-cutting deals that involved either Rudy Gay, who would make $17,888,931 in 2013-2014 and $19,317,325 in the 2014-15 season, or Zach Randolph, who would be owed 34 million over the next two seasons. But as a result of this trade, the Grizzlies were able to reportedly shed $6 million from the payroll while staying under the tax threshold, making it possible to keep both Gay and Randolph for a longer time than .
This trade may not drastically shift the balance in the NBA in the same way that some deadline-deals are expected to, the move prevents another contender from gaining the services of Gay or Randolph and possibly bolstering their playoff attack.
As is the case with every trade, there are di-and indirect winners and losers.
Josh Selby: 
His reaction to the trade:  -___-  Wait just a second, I was ranked ahead of Kyrie in high school by Rivals.com, now I'm several spots below him on the depth chart. C'mon, man.
The former Baltimore-area standout did not experience the collegiate success that many expected, but the Grizzlies selected Selby with the 49th pick in the 2011 NBA Draft. The Grizz knew that Selby was talented and had unflappable confidence, but he simply wasn't ready to consistently perform on a playoff-bound team. This season Selby has seen a slight uptick in minutes and appearances, but still remained limited in terms of a defined role.
With the trade, Selby now gets a new start on a Cleveland team that is fully committed to the youth movement and rebuilding from the bottom up. Fitting the mold of a combo guard allows Selby to play either guard spot even though his point guard skills are lacking. It will be tough to crack the lineup in Cleveland with the number of guards that they have on their team. In the long run this trade probably doesn't bode too well for Selby because he is essentially stuck in the same bench postion except on a non-playoff tea that lacks the veteran mettle that the Grizzlies have. But knowing Byron Scott, he will ensure that Selby gets the proper guidance.
Marresse Speights:
His reaction to the trade: O___O I like my playing time but, man, I have to play for another rebuilding team?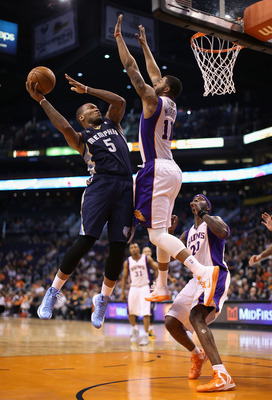 Although Speights will likely see his 14.8 minutes per game go up now that he is with Cleveland, I would think he would be higly upset going from a playoff team to a rebuilding team after being a part of such a process with the Sixers. Apparently, though, he doesn't seem too upset with the trade and "reportedly" had an option to decline the trade. Whether he is aware of that or not is not known , but time will tell.
I wanna s/o to my big bro in my fav player @aa000G9 for helping me become a better player!!! Much love bro

— Marreese Speights (@Mospeights16) January 23, 2013
Being only 25 years old, Speights has a lot of productive years ahead of him, especially being somewhat of a stretch four. Some of his minutes have gone to Darell Arthur, but I have a feeling that the Grizzlies will miss Speights a bit come playoff time. But, hey, they" take a Randolph-Speights trade off any day of the week.
Wayne Ellington:
His reaction to the trade: Welp, on the move again.
Despite being on one of his best stretches, Ellington is going to play for a third team in his short four -year career. In January, the former NCAA champion has played well off of the bench, shooting 48% from downtown while giving the Grizzlies a solid 7 points in reserve minutes.
Unfortunately, the grass isn't greener on the other side now that Ellington has to battle for minutes with C.J. Miles, Dion Waiters,  and Daniel Gibson on a team trending downwards. Luckily, though, he has an expiring contract, which may be the reason Cleveland was willing to take him in return.
Jon Leuer:
His reaction to the trade: I'll take it–going from a lottery-team to a contender.
Leuer's career has been uneventful thus far, but I think he has a shot at making an impact later on down the road. Barring injury to the Memphis front court  he is unlikely to his minutes go up from the 10 that he played for Cleveland.
Quick question:
What exactly does Cleveland think of Dion Waiters? I understand that Gibson and Ellington will come off the salary  books next year, but to currently have five shooting guards (if not more, considering that Alonzo Gee can be classified as a guard) on your team after drafting Waiters with the 4th overall pick is quite strange. Yeah, he's struggling shooting the ball but loading up on young guards that can compete for his minutes confuses me. I believe Waiters is going through the same growing pains that Austin Rivers (who I think will be very good down the road) is in New Orleans.
Indirect Impact: 
I've heard that this move may open up some minutes for Tony Wroten now that Selby is gone. I think Wroten is a big time athlete with very good vision who should glean some minutes at the end of blowouts.