Redemption Story: From a troubled past to indispensable player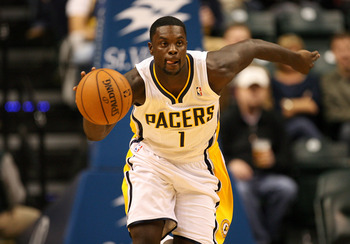 After Lance Stephenson infamously mocked LeBron James with a choking gesture in game 3 of the Eastern Conference Semifinals, the king responded by not really responding at all.
"Lance Stephenson? You want a quote about Lance Stephenson? I'm not even going to give him the time. Knock it off."
The whole situation could be summed as the best player in his field putting another inferior player in his place.
But being just another player was not always the case for the 21-year-old who was dubbed "Born Ready" in high school. At the time, the moniker, which was bestowed upon Stephenson by legendary Rucker Park announcer Bobbito Garcia, seemed fitting as Lance dazzled against more mature players on the blacktop and held his own against OJ Mayo (one of the highly touted high school players in the country) at Adidas ABCD camp, a former showcase hot bed for elite prospects.
"Born Ready" was even more impressive on the high school hardwood. He broke the scoring records at Abraham Lincoln High School in Coney Island, topping the scoring outputs of  Sebastian Telfair and Stephon Marbury, both of whom went on to have NBA careers. Stephenson's successes were not only limited to individual statistics, however; he served as leader of the team that went on to win four consecutive Public Schools Athletic League (PSAL) championships, a feat that was the first in New York state history. After garnering attention with his stellar performances, Lance participated in the McDonald's All-American game, scoring 12 points and dishing out 6 assists. Stephenson's celebrity grew larger as college coaches began clamoring for his attention, being featured on  Gunnin' for That No. 1 Spot, and starring in his own reality show (entitled "Born Ready") that captured his rise to success.
[This is a glimpse of playground Lance at the Boost Mobile Elite 24]
For as much success that followed Lance Stephenson, trouble with the law shifted the perception of him to the negative end. In 2008, Stephenson was charged with Class B sexual assault after he "groped" a 17-year-old girl inside of his school. Subsequently, his reality show was ended and, in the following year, many D-1 programs such as Kansas, Memphis, Arizona, Maryland, and St. Johns began shifting their focus away from the once heralded Stephenson because of eligibility complications and his legal struggles.
After all the drama began to die down, Lance found himself at the University of Cincinnati, flanked by the talented scoring guard Deonta Vaughn and forward Yancy Gates. Entering college would be billed as a fresh start leading to a possible NBA career.
Unlike others around the young Stephenson, Cincinnati coach Mick Cronin did not buy into the hype, swapping the nickname "Born Ready" for the less appealing one "Almost there." Given the controversial circumstances around Stephenson at the time, the latter suited him better.
Without the humbling experience at the University of Cincinnati, Stephenson probably would not have made significant strides in regards to his maturity and focus. In the words of VaShawn Mitchell, things began "turning around" for Lance Stephenson. He credited the isolation of the Cincinnati campus for helping him grow personally, something which the constant glim and glare of New York City did not allow him to have or consider. Lance expounded upon the stark differences of the experiences in the glamorous city of New York and those that he experienced in Cincinnati (quotes from Paul Daugherty of SI.com):
The article also makes mention of the fact that Stephenson attained a "3.5 GPA in his first college quarter," to which his parents responded, "Are you serious?" They were obviously shocked at how well Stephenson was doing academically after never attaining a  GPA above 2.0 in high school.
After averaging 12.3 points per game, 5.4 rebounds, and 2.5 assists, Lance decided to forgo his three-year eligibility at Cincinnati and enter the 2010 NBA draft. Just like colleges coaches were leery of Lance during the recruiting process because of his past actions, quite a few NBA teams shirked Stephenson and wondered whether past issues would rise again. Scouts also had concerns about his NBA readiness (no pun intended), his ability to score effectively despite not being impressive athletically, the accuracy and range of his jump shot, and his continued maturity issues.
Nevertheless,  Larry Bird and the Indiana Pacers decided to take a chance on the enigmatic Stephenson, as they selected him with the 40th overall pick in the 2010 NBA Draft. Only two months later, though, tumult again rared its ugly head in the life of Lance Stephenson when he was arrested in Brooklyn and charged with third-degree assault after throwing his girlfriend down a flight of stairs. The gamble the Pacers took seemed to  be a mistake, and represented yet another bump in the road of Stephenson's life which appeared to be smoothing out.
During his first two seasons, Stephenson did not do much to validate the his draft selection. He did not see much court time, only starting 1 game, averaging 10 minutes, and taking around 3 shots a night with very little success. Despite his struggles and sporadic playing time, it was not hard to notice Stephenson's innate talent, court vision, slick passing, and ability to meander his way to the rim. The only question was when would Lance get a chance to show his talent and would he be polished enough to even showcase his skills.
But as the saying goes, success is often where preparation meets opportunity. There was never a more fitting chance for Lance to step up and contribute when it was announced that star forward Danny Granger would be sidelined until February with knee tendinosis.
Lance is now averaging 28 minutes a game as oppposed to the meager 10 he saw in his rookie and sophomore years. In those minutes, he has been solid and serves as an important cog in the Pacers lineup. The most surprising thing about his play has been his shooting numbers, especially from deep. (47.9% fg% and 38.7 3fg% on 8 shots a game). Indiana's  Offensive rating is significantly higher when Stephenson is on the court (107.4) than when he is off of it (95.6), according to BasketballReference.com. This could be for a variety of reasons, but overall it is apparent that Lance can fill the void better than all other options that the Pacers have.
Jared Wade did a marvelous job explaining Lance's importance in detail back in early January, and I could not have put it any better: http://www.eightpointsnineseconds.com/2013/01/how-lance-stephenson-has-been-critical-to-the-pacers-success/
Maybe Lance hasn't reached the level of "Born Ready", and quite honestly, he may not totally get there given the dynamics of the team. But just as his days in Lincoln, he is being a leader on a contending team and has very good upside as he continues to learn the NBA and stay under control. Lance has found a "father figure" in Larry Bird, the former President of the Pacers who decided to draft Lance, and looks to be on the right track.
And maybe just maybe, when the playoffs begin in a few months, Lebron will have no other choice but to give consideration to Lance Stephenson and his quest to be "Ready!"