2013 MLB All-Star Game Preview
The excitement of the Major League Baseball Home Run Derby last night only got fans more excited for the big game tonight, the 83rd edition of the All-Star Game. Yoenis Cespedes surprised everyone, including yours truly, with a dominating performance in the Derby; will there be any big surprises tonight at Citi Field? There may be, especially with the winner of the MVP Award after the game. Story lines, lineups, pitchers, benches, let's break it all down!
American League lineup
LF Mike Trout, Angels
2B Robinson Cano, Yankees
3B Miguel Cabrera, Tigers
1B Chris Davis, Orioles
RF Jose Bautista, Blue Jays
DH David Ortiz, Red Sox
CF Adam Jones, Orioles
C Joe Mauer, Twins
SS J.J. Hardy, Orioles
Pitcher: Max Scherzer, Tigers
Reserves
C Jason Castro, Astros
C Salvador Perez, Royals
1B Prince Fielder, Tigers
2B Jason Kipnis, Indians
2B Dustin Pedroia, Red Sox
2B Ben Zobrist, Rays
SS Jhonny Peralta: Tigers
3B Manny Machado, Orioles
OF Nelson Cruz, Rangers
OF Alex Gordon, Royals
OF Torii Hunter, Tigers
DH Edwin Encarnacion, Blue Jays
Reserve Pitchers
LHP Brett Cecil, Blue Jays
LHP Glen Perkins, Twins
LHP Chris Sale, White Sox
RHP Grant Balfour, A's
RHP Clay Buchholz, Red Sox *
RHP Bartolo Colon, A's
RHP Jesse Crain, White Sox *
RHP Yu Darvish, Rangers *
RHP Steve Delabar,Blue Jays
RHP Felix Hernandez, Mariners
RHP Greg Holland, Royals
RHP Hisashi Iwakuma, Mariners
RHP Justin Masterson, Indians
RHP Matt Moore, Rays
RHP Joe Nathan, Rangers
RHP Mariano Rivera, Yankees
RHP Max Scherzer, Tigers
RHP Chris Tillman, Orioles
RHP Justin Verlander, Tigers
* denotes injured player who will not play
National League lineup
2B Brandon Phillips, Reds
RF Carlos Beltran, Cardinals
1B Joey Votto, Reds
3B David Wright, Mets
LF Carlos Gonzalez, Rockies
C Yadier Molina, Cardinals
SS Troy Tulowitzki, Rockies
DH Michael Cuddyer, Rockies
CF Bryce Harper, Nationals
Pitcher: Matt Harvey, Mets
Reserves
C Buster Posey, Giants
C Brian McCann, Braves
1B Paul Goldschmidt, D-backs
1B Allen Craig, Cardinals
1B Freddie Freeman, Braves *
2B Matt Carpenter, Cardinals
2B Marco Scutaro, Giants
SS Everth Cabrera, Padres
SS Jean Segura, Brewers
3B Pedro Alvarez, Pirates
OF Domonic Brown, Phillies
OF Michael Cuddyer, Rockies
OF Carlos Gomez, Brewers
OF Andrew McCutchen, Pirates
Reserve Pitchers
LHP Madison Bumgarner, Giants
LHP Aroldis Chapman, Reds
LHP Patrick Corbin, D-backs
RHP Jose Fernandez, Marlins
RHP Jason Grilli, Pirates
RHP Matt Harvey, Mets
LHP Clayton Kershaw, Dodgers
RHP Craig Kimbrel, Braves
LHP Cliff Lee, Phillies
LHP Jeff Locke, Pirates *
RHP Mark Melancon, Pirates
RHP Sergio Romo, Giants
RHP Adam Wainwright, Cardinals
LHP Travis Wood, Cubs
RHP Jordan Zimmermann, Nationals *
*- Denotes injured player who will not play
Lineup breakdown: What else can you say about the A.L. lineup? People are calling it the best All-Star lineup of all time, and it's certainly hard to dispute that claim. Matt Harvey has had an excellent season for the Mets, but he must have some nerves getting ready to pitch against this lineup in his home ballpark. Look at the first three guys he'll have to face in the first inning: Mike Trout, Robinson Cano, and Miguel Cabrera. That's a combined .330 average, 66 home runs, and 219 runs batted in. Add Chris Davis's 37 homers and 93 RBI in the cleanup spot, Jose Bautista's 20 homers and 55 RBIs, David Ortiz's 19 homers and 65 RBIs,  Adam Jones's 19 homers and 67 RBIs, Joe Mauer's 8 HR and 32 RBIs, and J.J. Hardy's 16 homers and 52 RBIs, and this A.L starting lineup has a total of 185 home runs and 583 runs batted in- and it's only the All-Star break. The National League has a combined 136 home runs and 462 RBIs, which is phenomenal, but the lineup is simply overmatched compared to the American League.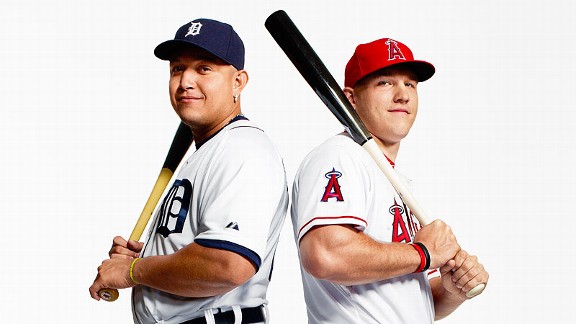 Bench Breakdown: The bench is where the National League could swing the game back in their favor; their bench is better than the American League bench. When catcher Yadier Molina has his two or three at bats and is substituted, Bruce Bochy will put in his MVP Buster Posey. If Posey needs a sub, Brian McCann is just about the best third-string catcher in the history of baseball. You've got Pirates stars Andrew McCutchen and Pedro Alvarez, St. Louis standouts Matt Carpenter and Allen Craig, and Phillies outfielder Domonic Brown on the bench as well. That's right, Alvarez and Brown, the two leading home run hitters in the National League, are reserves in the game. You could argue that the bench will put up more runs on the board than the starters when it comes to this N.L. squad. The A.L. has some good reserves as well with Dustin Pedroia, Nelson Cruz, Prince Fielder and Manny Machado, so when it gets to the later innings this game will set up for a wild finish.
Starting pitching breakdown: This game could be the official introduction of Matt Harvey as a household name across America if he can get through the first two innings without allowing a hit or run in his own ballpark. If he could strike out the side a la Pedro Martinez, he could end up with the MVP Award. On the American League side, Max Scherzer has his chance on centerstage. If he performs well, he makes his name known to America and finishes his climb out of the shadows of Justin Verlander in Detroit, officially establishing that it's a one-two punch for the Tigers. The storylines for these two are great, but if they perform poorly, the consensus among the national media would be that these guys may pitch well against their leagues and divisions, but shrink when it's a big-time game. Harvey can't let his fans down at Citi, and Scherzer can't get a "choker" label, especially with the postseason coming for the Tigers. The edge? I'll give it to Max Scherzer. He's going up against a less potent offense, and he's pitched better than any pitcher in the game thus far.
Bullpen breakdown: In the All-Star Game, you have the advantage of the best starting pitchers being in your bullpen along with the relievers. If everyone for the A.L. was actually pitching, especially Verlander (pitched Sunday so he is unavailable), I would give the A.L. the edge right away, but this year it's the N.L. with the advantage. Remember these names for tonight's game: Patrick Corbin, Madison Bumgarner, Jason Grilli and Sergio Romo. All guys with good ERAs who keep the ball down. If Harvey has any trouble, expect Corbin or Bumgarner to come in and stop the bleeding. If the N.L. is leading a close one in the later innings, they'll look to Grilli or Romo to shut the door on the A.L. bats. Edge to the N.L.
Managers breakdown: The managers of the previous World Series always manage the All-Star Game the next season. This year, it's Giants manager Bruce Bochy against Tigers manager Jim Leyland. These are two veteran, traditional managers who will enjoy the festivities, but know this is for home-field advantage in the World Series. In the late innings, they will manage the game like it's a postseason elimination game, rapidly making moves to give their league the win. This is one category where it's a coin flip, too close to call. Both managers are excellent, and it's not like they're going to make any bone-headed move to cost their team the game. Don't look too far into the managers for this one; the teams will settle it on the field.
The Prediction: American League wins 7-4, Joe Mauer MVP
That's right. He may be one of the unsung heroes coming in to this game, but Joe Mauer will hit a big three-run homer to lead the A.L. to a 7-4 victory over the National League. I've got the A.L., what's your prediction?