Jagr vs Lemieux: Career Comparison
On Thursday night, Devils right winger Jaromir Jagr scored the game-winning goal in overtime to beat the LA Kings 2-1. The goal was very significant; not only did it give the Devils a much-needed win, but it was Jagr's 690th career goal, tying Mario Lemieux for 9th on the all-time list.
It's a foregone conclusion that Jagr will score more goals this season, passing Lemieux, Steve Yzerman, Mark Messier, probably Mike Gartner and Phil Esposito. The focus in this particular piece is on "Super" Mario. With the 41-year old Jagr primed to become a top five goal-scorer ever, the debate has been brought up: who had the better career, him or Lemieux? The two have been teammates and competitors, they are often mentioned when discussing the greatest players of the 1990s. The only fair way to settle this is by breaking the comparison into categories and examining from there. Is there a clear-cut winner? Let's do it!
Frame: Lemieux stands at 6-4, 230 pounds, while Jagr is 6-3, 240. This category is pretty even, with neither player holding much of an advantage. If the two faced off one-on-one, which they may have done in practice with the Penguins, size would not be a major factor in one player's victory over the other. Edge: None

Scoring: This one seems closer than it actually is. Jagr may be about to pass Lemieux, but he's in his 20th season, while Lemieux only played 17, some of which he battled injuries and health concerns. In fact, Jagr has played 497 more games than Mario, so it's the equivalent of playing six more seasons. Lemieux's scoring average was five percent higher than Jagr's (19%>14%), and he scored 0.75 goals a game to Jagr's 0.49. Lemieux led the league in scoring three times, while Jagr never did. Edge: Lemieux
Assists: Once again, Lemieux cleans up in this category. He averaged a little over an assist a game in his career, while Jagr averaged 0.72 assists a game. Both led the league in the stat three times, but Lemieux's career high of 114 in the 1988-89 season beat Jagr's of 87 by a landslide. Edge: Lemieux
Defense: Neither player was ever quality on defense. While both had the big bodies, neither really used them in the defensive zone. There's no edge there, because neither player could be counted on to provide much on the other end of the ice. Edge: None
Clutch Factor: Jagr wins this category. While Super Mario was clutch, Jaromir Jagr may be the most clutch player in NHL history. Thursday's game-winner was the 121st of his career; no player has more, not even Gretzky or Esposito. Timely goals were one of the main contributors in the evolution from a young player with potential to future Hall of Famer. Edge: Jagr
Leadership: This category is one of the intangible ones that stats cannot solve. Jagr was captain of the Penguins from 1998-2001 and the Rangers from 2006-2008. Lemieux was named Penguins captain on three different occasions, wearing the "C" for most of his career. Both led by example as well as with their words, making them strong candidates to lead any franchise. Lemieux gets a slight edge because when both players were in Pittsburgh, he was more respected in the locker room than Jagr. Edge: Lemieux
Best of his generation?: Neither were, because Gretzky will forever hold that distinction. Both could have been considered the greatest of their generation in any other time period, but they played at the same time as the GOAT. Edge: None
Hart Trophies: Lemieux won the Hart three times, while Jagr only won it once. Edge: Lemieux
Other Awards: Lemieux won six Art Ross trophies, four Ted Lindsay Awards, two Conn Smythe trophies and the Calder Memorial Trophy. Jagr has won five Art Ross trophies and three Ted Lindsay Awards. Edge: Lemieux
Stanley Cups: While playing together with the Penguins, the duo won the Stanley Cup in 1991 and 1992, going back-to-back. Neither won another Cup. Edge: None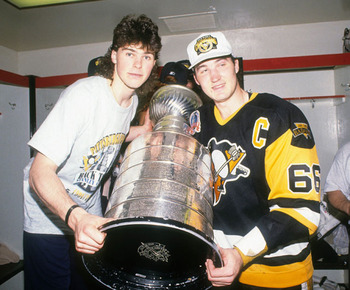 Impact on the game: In 1998, the Pittsburgh Penguins were forced to declare bankruptcy due to a complete mismanagement of the team's finances by owners Howard Baldwin and Morris Belzberg, who owed $90 million to various creditors. For most of the 1998-99 season, it looked like the team would either have to move out of Pittsburgh or fold. Fearing the worst, Mario Lemieux stepped in and made a proposal to buy the team. He was the Penguins' largest creditor and proposed to turn $20 million of his salary into equity, which would give him controlling interest of the franchise, which would stay in Pittsburgh. The NHL approved the purchase and Lemieux was ready to start turning the franchise around. He did, saving the franchise by coming out of retirement as a player-owner for a couple years and overseeing the selection of Sidney Crosby in 2006. He won his first Stanley Cup as an owner in 2009.
As for Jagr, he has been a great player in the league for many years. He had not been given the front office opportunities that Lemieux had, few have gotten the chance to own the franchise they played for. Jago also isn't nearly as loved by those same Penguin fans. While it's not necessarily fair, he simply wasn't at Mario's level.
Conclusion: Jaromir Jagr is on the cusp of a historic achievement, becoming one of the top goal scorers in NHL history and passing the great Mario Lemieux in the process. While these types of comparisons are fun, "Super Mario" is one of the top-5 players in the history of the game and Jagr is simply not at his level of greatness. There were only a few players with better careers than #66.