Primetime Football: Has Sunday Night Eclipsed Monday Night?
In the primetime TV battle, football usually reigns supreme. On a Sunday from September to early February, you'd be hard-pressed to find a sports fan who isn't watching at least one game of America's most popular sport. But when it comes to primetime, the game that generated the highest ratings was always the Monday Night game. It makes sense: there's no other game on Mondays (except for in some circumstances) and there's no better way to beat the Monday blues than knowing there's one more game on the week's NFL slate when the workday is over.
However, since NBC received the rights to broadcast Sunday Night Football in 2006, it has become the hottest ticket on television. The stats don't lie: according to Nielsen ratings, Sunday Night has topped the list of most-watched TV series from 2011-present.
How did this happen? Why do more Americans turn into Sunday Night Football than Monday Night Football? Has SNF really eclipsed MNF, or does MNF still have a chance to regain top billing? Let's examine.
Why Sunday Night Football has passed Monday Night Football
Better games. It doesn't take a rocket scientist to see that the games played on Sunday night have been more exciting than the ones played on Monday. Six of the 12 Sunday night games in 2013 have featured two teams with winning records, while only 3 of the 12 Monday night games have featured two teams with winning records. More often than not, the Monday Night game features two teams with losing records. The quality of the package your network is putting out there matters a lot when it comes to your viewership numbers. Games like Denver-New England are going to make a fan want to tune in, while a game like Tampa-Miami will have them looking for a DVR'ed show they haven't watched yet. The flex helps, but NBC usually snags the good games even before the flex comes into play.
Monday Night games cause anger. This one isn't ESPN's fault, but in back-to-back years now a Monday Night game has had the most controversial ending of the year. The replacement refs botching the Golden Tate play and the refs picking up the pass interference flag both soured great games that were coming down to the wire. If a call like that had come in Miami-Tampa, not too many people would have cared. But two of the biggest fan bases in the game felt they were robbed of a victory in a game everyone was watching. Fairly or unfairly, ESPN has to deal with the challenge of covering the aftermath.
More appealing pregame show. Football Night in America is a great set-up, with Dan Patrick, Rodney Harrison and Tony Dungy gathering around the small table to recap the day's action and preview the night's game. The representation of one media member, one former player and one coach looks better than a huge table of former NFL players and coaches all yelling things at the same time. The calmer, more professional-looking panel wins out in the "pregame shows" category.
Announcing. Many people dislike Chris Collinsworth and Jon Gruden as color commentators, so it comes down to play-by-play, where Al Michaels gains the upper hand over Mike Tirico. With no disrespect to Tirico, Al Michaels is one of the greatest announcers in the history of sports, while Tirico still has a ways to go to be mentioned in that conversation. Michaels has the perfect voice for a football announcer and his attention to detail makes him one of the best to ever do his job.
Time of kickoff. NBC starts kickoff of Sunday Night games around 8:30, which is better than Monday Night, which usually starts around 8:45. Those 15 minutes may seem insignificant, but most Sunday Night games are over around 11:30, while most Monday Nighters end around midnight, depending of the pace of the game. An earlier kickoff would be better, especially considering Monday Night games are usually less enthralling to begin with.
Network vs Cable. The Big Four (NBC, CBS, FOX, ABC), will have an edge on cable networks for as long as TV exists when it comes to ratings. ESPN may be the worldwide leader in sports, but NBC is one of the worldwide leaders in television programming as a whole.
In conclusion, there are many reasons Sunday Night Football has eclipsed its' Monday competitor. The ratings don't lie, and neither does the action on the field.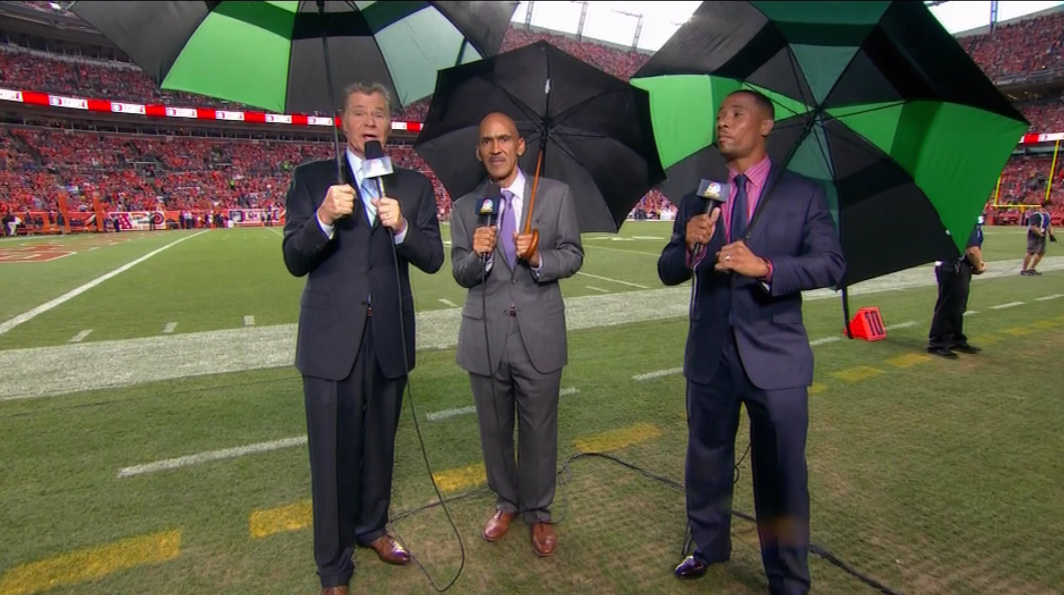 Agree? Disagree? Drop a comment or send me a tweet @chuckiemaggio