2013 Heisman Trophy: Thoughts of the Day Ballot
Another Heisman Trophy is about to be awarded and once again, my official ballot must have been lost in the mail (I'm looking at you, Heisman Trust). Despite not having an official vote, I'm casting an unofficial ballot like I've done in past years, with a clear idea of who I would vote for to take home the hardware Saturday night. What order should the vote go in on Saturday night? Let's do it!
1. Jameis Winston, Florida State. Winston would have been my vote with or without the investigation that took place,  his numbers this year are simply incredible. His 3,820 passing yards, 38 touchdowns and 190 passer rating led the Seminoles to a 13-0 record, an ACC Championship and a trip to the BCS Championship Game. Winston is vying to be the second consecutive freshman to win the award, following Johnny Manziel last season. The string of freshmen as Heisman finalists confirms the notion that first-year starters are becoming more and more prepared for college ball. Winston was fearless from the very beginning, when he carved up the Pitt Panthers on Labor Day weekend and officially announced himself as a star QB. His excellence on the field and great handling of the very difficult situation in the past few weeks off it make him a worthy Heisman winner.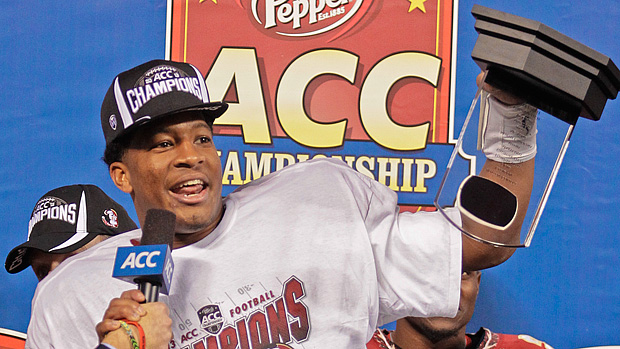 2. AJ McCarron, Alabama. McCarron won't be making another National Championship appearance this season, but he sure had an impressive season nonetheless. 26 touchdowns, only five picks and the same completion percentage as Winston would have given the Bama quarterback serious consideration for the award if Bama had won against Auburn. His humility, body of work and leadership should be enough to garner the votes for second place.
3. Tre Mason, Auburn. Mason flew under the radar all season when it came to Heisman chances, but his part in Auburn's surge to the SEC title (13 TDs in the last five games, including four in the SEC Championship Game vs Missouri) raised voter's eyebrows and earned him a trip to New York for the ceremony. He won't win this year, but if he chooses to come back for his senior season, don't count him out to bring the trophy home next December.
4. Jordan Lynch, Northern Illinois. Lynch's hopes to make a BCS bowl ended in a blowout loss to Bowling Green, but without him the Huskies may not have made a bowl game at all. The numbers are outstanding (23 touchdowns in the air, 22 on the ground, with 4,557 total yards), but one loss changes a lot when you're from a non-BCS conference, and Lynch is the latest example.
5. Johnny Manziel, Texas A&M. Manziel's numbers were actually better this season than they were in last year's Heisman campaign (41 total TDs), but his record was not as good as the top four (8-4). He's not going to get a lot of votes this time around, but his combination of highlight plays and a powerful, accurate arm will get him drafted in April.
6. Andre Williams, Boston College. Andre Williams' invitation to the Heisman ceremony is a nice way for the Heisman Trust to reward a guy who won't win the award, but had an exceptional season that proved hard work pays off. Mason's strong finish to the season makes him the top running back, but Williams' 17 touchdowns and 2,102 rushing yards took the Eagles from a 2-10 team with little hope to a 7-5 team going to the Independence Bowl.
I've got Jameis Winston taking home the Heisman tomorrow night. Agree? Disagree? Drop a comment or tweet me @chuckiemaggio.