Thoughts of the Day: February 3rd
Time for another edition of Thoughts of the Day! In today's edition, I recap yesterday's Super Bowl, from the blowout game on the field to the halftime show, commercials, etc. What grades did I give each aspect of the game? What was the most surprising moment? Let's do it!
First off, Fox's production of the game was first class as usual and gets an A+ for sure. The greatest part of their coverage when their turn comes in the rotation is when they have players, coaches, owners and media members read the Declaration of Independence about a half hour before the game. It's a great symbol of the piece of Americana that is the Super Bowl and what makes our country great. The other stellar part of the broadcast was that Joe Buck and Troy Aikman did an excellent job in the booth. Though they will always have a lot of haters, they never make the game about themselves whatsoever, and Buck has truly had a great couple of months with the World Series, NFL Playoffs and Super Bowl. Michael, Howie and Jimmy were stellar as usual too. A+ job, Fox.
The national anthem by Renee Fleming was spectacular, much more memorable than some other recent anthems. When I heard that an opera singer was singing the anthem, I cringed at first, but her rendition was amazing. It makes it even better as a Rochesterian that Fleming is a native of Rochester, New York as well.
Joe Namath gets an "A" for his coat, but a "D" for his coin toss fail. For a guy who has been around the game for so many years, you would think that Broadway Joe would know to wait until the Seahawks called heads or tails. Instead, he was a bit too eager and they had to flip the coin over again. Very funny moment, but once again, nice coat Joe.
I thought the Super Bowl halftime would be a major disappointment and letdown from Beyonce's last year, but Bruno Mars proved me wrong. He sang the right songs, had everyone tapping their feet and bopping their heads along with the performance, and even showed off his drum skills. The light show was fantastic as well, and the Red Hot Chili Peppers, who I will admit I have never really listened to, only added to a well-done show. As for next year's halftime show, I predict that a female pop singer like Katy Perry will get the nod. It only makes sense that the NFL would continue to tab young stars that teens and young adults can relate to for the show. They've figured out how to get popular singers to perform without having another wardrobe malfunction, and Katy Perry makes sense to be next.
Overall, the commercials get a "C." I would have given them a "D" if it weren't for the heartwarming Budweiser commercials with the puppy and the soldier returning home. Budweiser continuously shows they know how to make an awe-inspiring ad year after year. They know people won't just go out and buy beer during the game, so they put together a fantastic bunch of commercials that shows who they are and who they stand for. The values of their company are honorable, and I can't wait to see what commercial they make next- they're likely in the brainstorming process already.
The Seahawks obviously get an "A+" for total domination of the game. On offense, they were a well-oiled machine, with Russell Wilson playing a mistake-free ballgame, Marshawn Lynch grinding for a TD and some hard-earned yards, and Jermaine Kearse spinning his way to paydirt (the play of the game even though the game was already decided). The defense, normally brash and talkative, put on a performance that spoke for itself. Anytime you can hold Peyton Manning and the top-scoring offense in the history of the game to just eight points, you know you're in business. Richard Sherman was injured late in the game, but it was great that he was able to come out and celebrate with his team for the presentation of the Lombardi Trophy. He had another validation game, and there is no more debate over his credentials as the best corner in the game. I'd be remiss not to mention Kam Chancellor, however. With no offense to game MVP Malcolm Smith, who had a great pick-six, Chancellor should have won Super Bowl MVP for his interception, ten tackes, and big hit early that set the tone for the Legion of Boom. Great championship for the city of Seattle.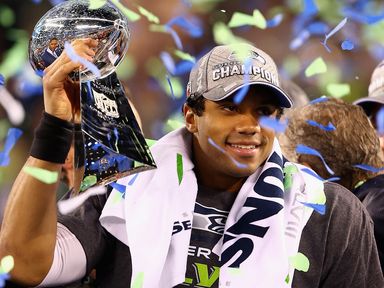 The Broncos get an "F" for a complete failure to execute offensively, defensively, and on special teams. The safety on the first play was just an omen for the total monstrosity we were about to witness. Demariyus Thomas was the only bright spot (most receptions in a Super Bowl in NFL history), the rest of the team was an absolute embarrassment. Peyton Manning's legacy did take a major hit for his awful performance. No one expected him to be so feeble in arguably the biggest game of his career, but feeble is the operative word to describe his game on Sunday. John Fox gets an "F" as well for not recognizing that the passing game was going nowhere and not giving Knowshon Moreno more carries. In the end, it's Peyton's second Super Bowl loss, John Fox's second Super Bowl loss, and Wes Welker's second Super Bowl loss. The legacies of those three men took a hit last night. The Peyton-Brady comparisons that went on for three weeks had seemed ridiculous to me at the time, and they definitely seem ridiculous now. Brady has caught heat for the two losses, but he's won three rings and only lost the two games by a combined seven points. Peyton's lost two Super Bowls, only has one ring and lost the two games by a combined 49 points. As for Fox, his legacy would have looked a lot better with a Super Bowl win. He lost a heartbreaker against the Patriots in 2004 and now he lost in a blowout where he failed to properly prepare his team. As for Welker, he had eight catches in this game but he's now 0-2 in Super Bowls in his career as well. There's no doubt that though he will never admit it, he still thinks of that drop in the Super Bowl against the Giants. He may never get a chance to redeem himself. Embarrassing isn't even the word for what went down at Metlife on Sunday for Denver.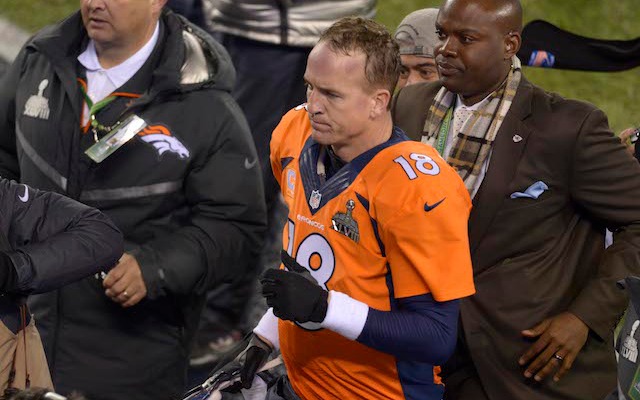 Way-too-early 2015 Super Bowl prediction? As of this moment, I don't think Seattle will repeat. They'll be in the playoffs again for sure, but repeating is insanely hard in today's NFL. Right now, I'll say Panthers over Colts in Arizona.