Will the Phillies Contend in 2014?
One of the most interesting teams heading into spring training is the Philadelphia Phillies. Six years ago, they were on top as World Series Champions. Today, they are trying to get back to the postseason after missing the last two. They have the talent, but can they put it all together? If Philly is going to get back to the playoffs, there are some big questions to answer:
How will Ryne Sandberg do in his first full year as manager? When the Phillies controversially fired longtime manager Charlie Manuel last August, Ryne Sandberg finally got his chance to manage in the big leagues. He did alright finishing out the season, but in his first year as manager we'll really start to see what he's made of as a skipper. We know Sandberg's basic style already. He is not a "my way or the highway" manager, but he does demand hard work from everyone, starting with the stars and funneling all the way down to the 25th man. The Phillies have to come in ready to work, and they are probably taking more ground balls than any team in the major leagues. You won't see Sandberg yelling or getting too animated on the bench, but he's no Grady Little either. It's a nice mix, and Philadelphia hopes that leads to wins this season.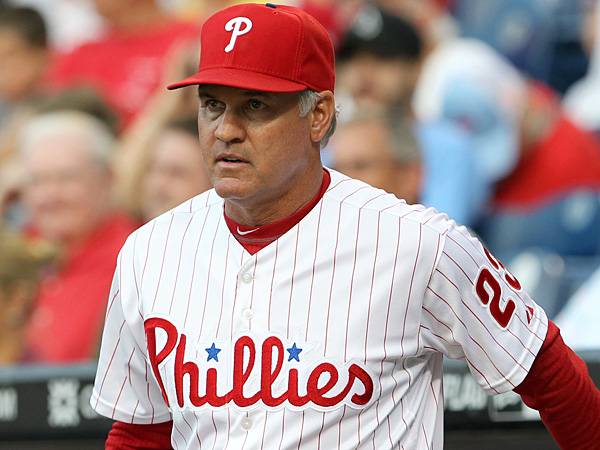 Can Howard stay healthy? First baseman Ryan Howard hasn't lasted a full season since 2011, and it's no coincidence that that was the last time the Phillies won the NL East and competed in the postseason. Howard has missed 173 games in the past two seasons, and Philadelphia has gone 74-99 in those games. It's no question that this team needs the 2006 MVP in the lineup everyday this season. He appears to be healthy and feeling good, but the injury bug can hit any second. With the proper precautions and a little bit of luck, Howard could stay off the disabled list and help the Phillies win some ballgames this year.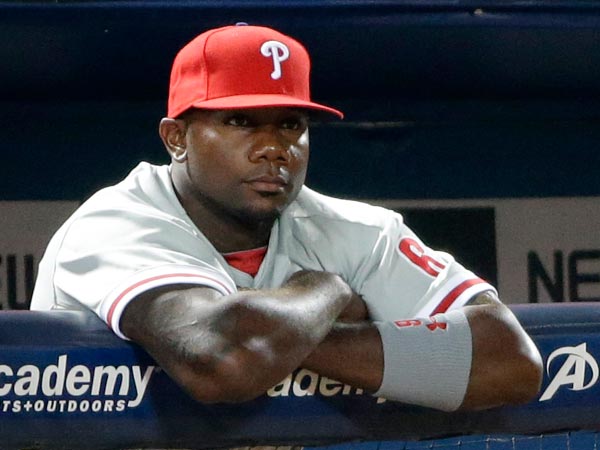 Will Domonic Brown hit as well as last year? Last year was a breakout year for the 26-year old outfielder. Brown took advantage of a starting position in the outfield by hitting .272 with 27 home runs and 83 runs batted in, good enough to be named to the NL All-Star team. The scary part about him is that he's still very much a raw talent. He's only 26, and still has a lot of room to grow at the plate, in the outfield and in the weight room. Once he gets stronger, he has the potential to hit 30 homers every year. The question is obviously if he can have as good of a year as last year, which he definitely can. If he improves his batting average while still knocking homers out of the park, he'll be an All-Star again.
Will Tony Gwynn Jr. win a roster spot? Following in his father's footsteps has not been the easiest task for Tony Gwynn Jr., the son of Hall of Famer Tony Gwynn Sr. He has had some opportunities to be a starting outfielder but has bounced around from Milwaukee, to San Diego, to L.A., and now he's in camp with Philadelphia as a non-roster invitee. It seems like a long-shot that Gwynn will win a roster spot, but he will certainly compete his hardest to do so. The key for him will be to hit well and play well in the field. He's never been the best average hitter and he's never played the most consistent outfield. If he performs well but doesn't make the roster, the Phillies might still offer him a minor league contract. He's only 31, so there's plenty of time to be an everyday starter like his dad at the least. Can Miguel Alfredo Gonzalez be a star? Gonzalez, a 27-year old Cuban export that the Phillies signed to a three year, $12 million contract before he even threw a pitch in the big leagues, is obviously very talented. Neither GM Ruben Amaro or the Phils' coaching staff had seen him throw before February, so they are definitely taking a big risk on the phenom. There are health concerns, there's a limited sample size (Gonzalez was banned from competition in Cuba after unsuccessfully attempting to flee the country), and there's a lot of uncertainty. Which Gonzalez will show up? The answer to that question is vital to the success of this starting rotation, which he will be a part of come the regular season.
Are the Phillies too old? The average age of this Philadelphia club is 28.5, second-oldest in the league behind only the Boston Red Sox. The Red Sox may have won the World Series, but the Phillies have shown their age in the past few years with injury problems and nagging aches and pains. The only one to play close to a full 162 games was Jimmy Rollins, and everyone else missed 20 games or more. With additions like former All-Star Bobby Abreu, is this year's team too old? Maybe not, but we'll certainly have to wait and see.