UConn Women's Basketball Factory Continues
Every March, there are some constant themes in the NCAA Tournament. There are always upsets, Cinderellas, classic games and superstars who are born on the biggest stage. But there's always one team you can count on to go deep into the tournament- the UConn Huskies Women's Basketball team. This year, they're Number one again as they start tournament play tonight. Can they add another national title to their rich history on April 8? First, let's take a look back at the basketball factory they've built.
UConn's women weren't always the best in college basketball. They only had a winning record one year in their history before hiring Geno Auriemma in 1985, and the first few years under Auriemma were nothing special. From October 1985-spring of 1988, their record was 43-39 and they missed the tournament all three seasons. Even though they were losing on the court, Geno kept recruiting and putting his plan into action. In the 1988-89 season, the Huskies made the NCAA Tournament with a record of 24-6, and in 1989-90 they made it with a record of 25-6. They were bounced early in both years, but the seeds had been planted, and a dynasty was about to be born.
From the 1990-91 season, when Auriemma and the Huskies reached their first Final Four, to now, the UConn Lady Huskies have gone 830-94.  Including eight national championships and 14 Final Fours. Every year when fans fill out their brackets, Geno's girls are one of the four favorites to take home the title. He's built a program fans either love or hate, respect or despise. They may be the most dominant team in the history of sports.
How has Geno done it? It all comes down to the star players he recruits year after year, aka "The Factory." Players like Rebecca Lobo, Sue Bird, Swin Cash, Diana Taurasi, Tina Charles and Maya Moore are all former Husky greats who have led the team to greatness.
The two former greats that particularly stick out to me are Diana Taurasi and Maya Moore. Taurasi was the most outstanding player in college basketball from 2000-2004, leading the team to the Final Four each year of her collegiate career and winning it all three times.
The 2004 Tournament, where the women's team won the NCAA Tournament and the men's team won the men's tournament as well in a rare sweep, stands out. Geno Auriemma's most famous quote from that year when asked how confident he was in UConn's chances was, "We have Diana, and you don't." Diana and Emeka Okafor combined for a very memorable March that year.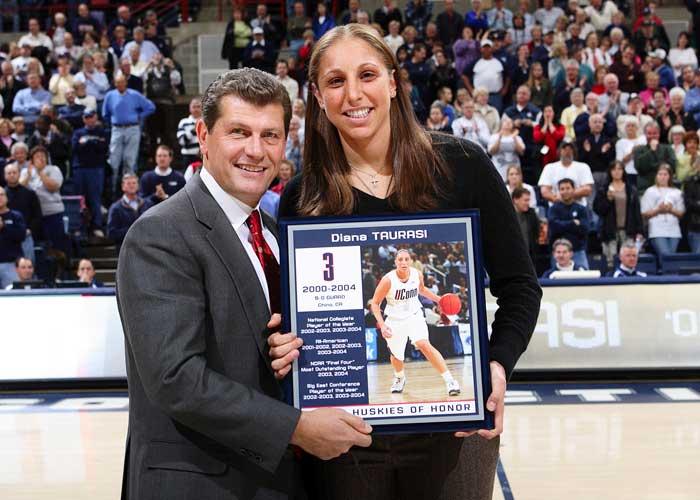 Maya Moore came along three years later, and she definitely proved to be in Taurasi's category as a UConn legend. In her illustrious career, she scored 3036 points, grabbed 1276 rebounds and won two national championships, appearing in the Final Four all four years. Beyond the stats, she led the Huskies to their 89th consecutive victory, which set the record for longest streak in college basketball history, men's or women's. The combination of grace and power she played with made her an exciting player to watch, and the way she motivated her team as a leader made her hard to beat.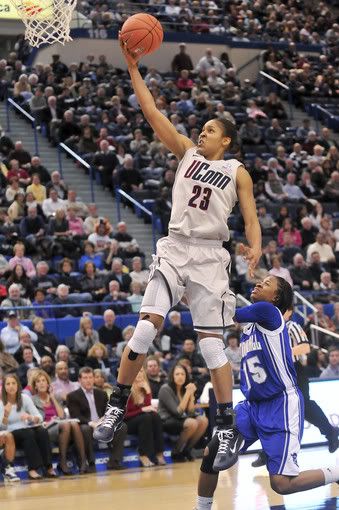 Now, the UConn women have another star, and her name is Breanna Stewart. The sophomore from Syracuse, New York is the best player in the country, averaging 19.7 points per game and adding eight boards. In addition, she is six blocks away from becoming the first player since Rebecca Lobo to block 100 shots and dish 100 assists in one season. The rarefied air that accomplishment puts her in (Lobo was the first great player Auriemma recruited) just shows that she is a very special player. At only 6-4, she doesn't look like a dominant shot-blocker, but her 7-1 wingspan dares teams to try and test her. All of these attributes added up to a Most Outstanding Player award for last year's Final Four as a freshman and an unblemished record this season. Players like Stefanie Dolson and Bria Hartley have helped her along the way.
By the time Stewart is a senior, she may very well be going for a fourth ring. With the changing climate in the women's game, the dominating players like Diggins and Griner having graduated and gone to the pros, Stewart seems to be the only one left worthy of the "dominant" tag. The only team that looks to be in UConn's way of a national title is the Notre Dame Fighting Irish. The Irish went undefeated as well this season in the first year these two teams competed in different conferences. The usual clashes of the top two programs have been missed this year, but they are projected by many to meet for the first time in a year on April 8. Notre Dame has some great players like Kayla McBride and Jewell Lloyd and has dominated teams all year, but will they have an answer for Stewart? Only time will tell. The latest edition of the UConn Women's Basketball Factory will be waiting.