Stanley Cup Positional Breakdown: Defensemen
The defensive mathups in these Stanley Cup Finals is phenomenal, with the Los Angeles Kings and New York Rangers each boasting one of the best players in the league at that position. Defense is obviously crucial in the Finals, where every breakdown could cost a team a chance at winning it all. It's not all bad, though; since the Conn Smythe Award for playoff MVP was introduced in 1965, eight defensemen have won the award for their stellar play, most recently Scott Niedermayer in 2007 with Anaheim.
Which players will be key on D in these Stanley Cup Finals? Let's break it down!
Kings defensemen to watch:
Drew Doughty. Doughty is arguably the best defenseman in the world right now. The 24-year old led Canada to the gold medal in Sochi with his four goals and two assists in the tournament, and has led all defensemen with 16 points in the 2014 Stanley Cup Playoffs. He only scored 10 goals in the regular season; he has four in the postseason. His skill on offense sometimes overshadows his defensive prowess, but his excellent awareness in all three zones (offensive zone, defensive zone and neutral zone) makes him one of the best in the league. He's not a finalist for the Norris Trophy this year, but he has a chance the three finalists don't: a shot at the Cup.
Jake Muzzin. Muzzin pairs up with Doughty in Darryl Sutter's first pairing. He's matched his regular season scoring output (5 goals) and added six assists as well this postseason. His size and skating ability make him a great player at both ends for Los Angeles. He's a physical hitter as well, which the Kings will look to utilize against the small Rangers forwards. He flies under the radar, but Jake Muzzin could have a huge impact on this series.
Willie Mitchell. Willie Mitchell is no stat-stuffer; the 37-year old only has two points this postseason. However, it's his solid frame, physicality and defensive instincts that make him such a great second-line defender. He always knows where to be on the ice and his leadership is an intangible that cannot be ignored. With the young defense Los Angeles has, they need their veteran presence to help them stay the course. Mitchell's importance to the King's Cup chances cannot be denied, and he had the picture of the year when LA won it all in 2012: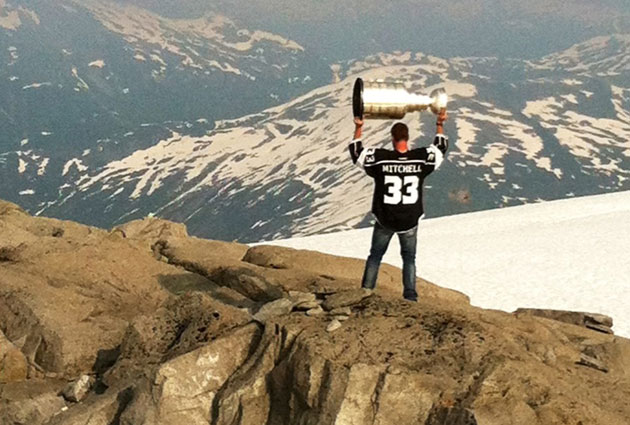 Slava Voynov. Voynov is another one of the young guns on this defense, and he's come up with some timely plays this postseason. A goal in Game Three of the West Finals and assists in games two and seven helped chip in on offense, and he had the game-winning strike in Game 5 of the St. Louis series. Defensively, he will need to be instrumental in shutting down Martin St. Louis, Carl Hagelin, Brad Richards and the Rangers' big scorers. It's no easy task, but we'll see what the 24-year old is made of. Voynov will have to play excellent defense all series long.
Rangers defensemen to watch:
Ryan McDonagh. The other star defenseman in this series is McDonagh. Like Doughty, he is 24 and has had a breakout season this year. In these playoffs, he's scored three goals and added ten assists offensively while helping New York lock up the likes of Crosby, Malkin and Pacioretty defensively. He's led the Rangers in ice time at 25 minutes a game, possesses both finesse and physicality, and has a good shot. Very importantly for New York is that he's also extremely skilled on the power play: two of his three goals were on the man advantage along with six of his thirteen points overall. When you have a defenseman that can be that lethal on the power play, that's a major plus. The Doughty-McDonagh matchup is going to receive a lot of buzz throughout these Cup Finals, and it will be interesting to see which man produces more.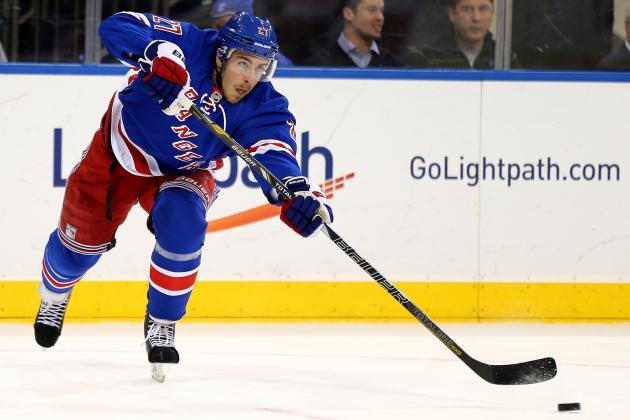 Dan Girardi. Girardi is McDonagh's running mate on the first defense. As you might expect, he's had fewer points than McDonagh, but not by much. Girardi actually has seven points in the Stanley Cup Playoffs, with a goal and six assists. The interesting thing about the 30-year old defenseman is that in January, the rumor mills were alluding to him being traded out of New York. No deal ended up getting done, which both sides can agree was a good thing. The blueshirts kept their defensive-minded, team-first leader who has no problem sacrificing his body and blocking shots, while Girardi was able to stay with the only team he's been apart of in his NHL career and watch the hard work and dedication finally pay off with a shot at the Cup. It's been a win-win, and it will continue to be a pleasure to watch Girardi play defense.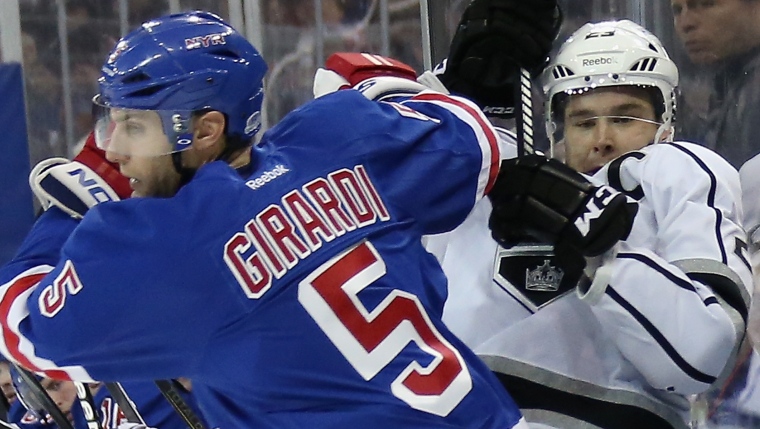 Marc Staal. The Staal brothers are verging on history. If Marc and the Rangers can win it all, the three would be the first trio of brothers to win the Cup as players. Eric won it with the Hurricanes back in 2006 and Jordan won it in 2009 with the Penguins. Marc has broken the mold a bit as the only defenseman of the three (the other two are centers, both currently playing for Carolina), and he's done an excellent job at the position. His great length and skating ability make him a consistent shutdown defender, and he's always in the right place at the right time. If he and McDonagh were paired together on the ice (which is unlikely as coach Alain Vigneault has not seen any reason for a shakeup), they would be almost unstoppable. If Marc's name is to join his brothers on the Cup, he will have to use his shutdown ability against LA's forwards.
Defensive edge: Both teams are very solid defensively and not many breakdowns will occur in these Finals. The slight edge goes to the Kings because they have the best defender in the series in Drew Doughty. Check back tomorrow for the goalie matchup and a series prediction to lead you into Game One, which is on Wednesday at 8:00 eastern time.