It seemed like it would never get here, but here we are. The start of the college football season is always highly anticipated, and it's just hours away now. But, this year because of the new College Football Playoff and other factors, the anticipation is even higher. That's especially true in the SEC and it's also true in Athens Georgia where Hutson Mason, Georgia's senior QB has been waiting his turn and anticipating the day he would be named the Bulldogs starting quarterback. This time, on a permanent basis. That time has come, and Mason looks ready for the challenge. His first assignment is Saturday when Clemson goes 'Between the Hedges'. Mason, knows all about Clemson. He visited Clemson during his recruitment and loved it there. But, there was no scholarship offer. So, Mason ends up in Athens. Chip on the shoulder? We'll find out Saturday. For my money, Clemson at Georgia is the best game involving SEC teams this week. But, let's take a look at the entire Week one SEC slate.
Best of the Weekend
16. CLEMSON  at  12. GEORGIA (- 7.5)  The Bulldogs definitely have revenge on their minds after last year's 38-35 loss to the Tigers at Death Valley. Last year's loss was even more costly to Georgia, as wide receiver, Malcolm Mitchell went down with a season ending ACL injury. He still isn't completely healthy. Add to that, the loss of Justin Scott-Wesley to suspension, and the Bulldogs look a little thin at wide receiver. At Clemson, all the talk has been how improved the Tigers will be defensively. Defensive end, Vic Beasley is a load and the 'Dawgs O-Line will have to have a plan to slow him down. At the end of the day, the difference in this game will be Todd Gurley. Just as Georgia will be starting Mason, who is a senior. So, will Clemson. Senior QB, Cole Stoudt was recently named the starter by head coach, Dabo Swinney. But, it's Mason who will have the luxury of playing in front of the home crowd and handing the ball off to the nation's best running back. That's enough for me, but I do think Clemson keeps it very close.   Georgia 24  Clemson 20………
14. WISCONSIN  vs  13. LSU (-5.0)  Speaking of highly anticipated. The anticipation of LSU running back, Leonard Fournette's debut with the Tigers isn't unprecedented, but it's close. It gets that way when you're compared to great running backs, like Adrian Peterson. While, lots of people will be glued to their tv's to see Fournette, there should be a pretty good ball game going on as well. LSU, is deeper than the Badgers, and it's hard seeing Wisconsin matching LSU's athleticism. However, the Badgers are more experienced in a couple of key positions, including QB. Junior Joel Stave, while not the most dynamic, there's no question he's the man behind center. Les Miles, has been pretty tight-lipped, but he did say he will play both Anthony Jennings, and Brandon Harris. So, nothing's settled there. The key to this game may be LSU's QB's. Can they make plays through the air, to keep the Badgers honest against the run. If not, the Badgers have a big time running back of their own, in junior Melvin Gordon that can take over a game. Look for this game to be low scoring and close to the best. In the end, LSU prevails but by a slim margin.  LSU 20  Wisconsin 16……….
Arkansas  at  6 Auburn (-18.0)  The Tigers set out to defend their SEC championship from a season ago, by tangling with the Razorbacks in Auburn. Last season's game was a lot closer than the 35-17 score indicates. The Hogs were down big from the start, but that was due to 3 costly turnovers that Auburn capitalized on. Arkansas, scored a couple TD's late to make it look more respectable. But, in the end, Auburn only out-gained the Hogs by 20 yards for the game. Arkansas, also had success running the ball and keeping it away from Nick Marshall and Auburn's fast paced offense. Head coach, Bret Bielema's team has one of the more underrated running attacks in the league, and milking the clock will be vitally important. If, they can keep Marshall and company off the field, this game could be closer than most expect. Of course, Marshall won't start the game, as he's suspended by Gus Malzahn for part of the game. Jeremy Johnson, will get the start, but don't think the Tigers will be crippled from having him at the controls. Johnson, is widely looked at as the QB of the future on the Plains. Marshall will play, however. I don't think it matters who the QB is on Saturday.  Auburn 37  Arkansas 17……..
Best of the Rest
Utah St.  at  Tennessee (6.0)  Do yourself a favor and don't take this game lightly. This game isn't necessarily a marquee game, but it will be played on Sunday and will be the only game going at that time. The Vols definitely need to treat it as such, and I'm sure Butch Jones will pound that in their heads. You only have to look back at two years ago when the Aggies visited Auburn and nearly pulled the upset. Losing 42-38. Utah St. gave that game away to Auburn, with at that time, freshman QB Chuckie Keeton running the show. Keeton, is now a senior and as dangerous as ever. This will be a big time test for the Vols defense. It will also be a time where Justin Worley needs to prove he should be the QB for Tennessee. This game has been overlooked but could be one of the better games of the weekend. In fact, it would have been ranked higher on this list if Auburn/Arkansas wasn't a conference game involving a ranked team. Look for a nail-biter in Neyland Stadium.   Tennessee 38 Utah St. 34…..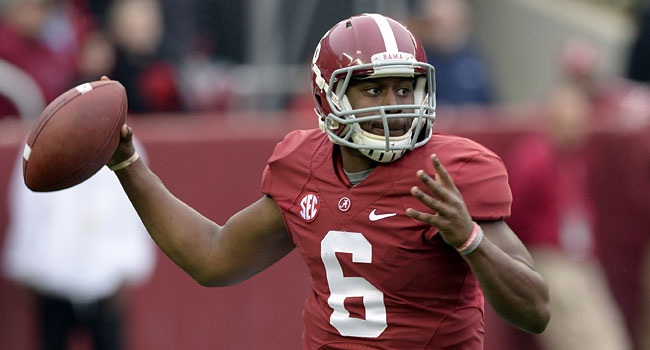 West Virginia  vs  2. Alabama (26.5)  Nick Saban has been tight-lipped as ever, but word finally got out that Blake Sims will indeed be the starter against the Mountaineers in Atlanta. It seems like the right choice since Jacob Coker, who didn't arrive until after spring drills were completed, to play the guy that's been around the system much longer. That guy is Sims. Whether or not, he keeps the job is another question. Coker, the former FSU QB, will get playing time, however. So, will another former FSU QB. Senior, Clint Trickett runs the show for Dana Holgorsen's offense. This game could be more interesting than most expect. WVU, uses the same type fast pace tempo teams like Texas A&M and Auburn have given Bama trouble with. It's just hard to imagine the Mountaineers stopping Bama's run game, if that offensive line comes together well. Still look for a game closer than the spread.   Alabama 33 West Virginia 16…….
The Rest
Mississippi St. (-30.5)  59  Southern Miss  13 –  The Bulldogs should have no problem with the Golden Eagles who have won only one game in the last 2 years.
Florida (-36.0)  48  Idaho 10 –  It's not a marquee match-up by any stretch of the imagination, but a lot of eyes will be watching to see just how much Jeff Driskel and the Gators offense has improved. The Vandals won't like the outcome.
Missouri  51  South Dakota St. 27  –  The defending SEC east champs should have no problems against the Jackrabbits of the FCS. But, SDSU did make the 2nd round of the FCS playoffs last season. Closer game than expected.
Kentucky 38  Tennessee-Martin 10 – The Wildcats are experienced defensively. That should make it very hard for UTM to get anything positive and the UK offense should be look good. At least for one Saturday afternoon.
There you have it. Check back for a review of these games right here, next week….