Some not-so-surprising news hit social media on Sunday morning when it was reported by Boston Globe writer and Around the Horn panelist Jackie MacMullan that Celtics point guard Rajon Rondo told the Celtics he wants a trade.
Trade rumors involving the four-time All-Star are nothing new; they've been swirling for years now. However, there's never been a report of Rondo actually requesting a trade himself, which arguably makes this the most serious speculation yet.
Boston's superstar certainly has a right to seek a move. The Celtics made no significant moves this offseason and lost out on Kevin Love, who would have definitely given Rondo enough of a reason to stay. While he had said over and over again that his intention was to stay in Beantown and remain in the green and white jersey, he can't be blamed for being dissatisfied with the direction the team is going.
Which teams make the most sense for Rondo? Let's break down the potential landing spots.
1. Houston Rockets. The Rockets are already one of the favorites in the Western Conference, and Rajon Rondo going to H-Town would only bolster their chances for a trip to the Finals. If the season started today Patrick Beverley would be starting at point guard after Jeremy Lin's departure, with young backups in Isaiah Canaan and Ish Smith. It goes without saying that Rondo is an upgrade over Beverley; if he joined James Harden, Trevor Ariza, Terrence Jones and Dwight Howard in the starting five, general manager Daryl Morey would join Cavs GM David Griffin in the running for Executive of the Year. This deal would be a win-win for the Rockets and Rondo: Houston gets a missing piece to the puzzle and Rondo goes to a title contender.
2. Indiana Pacers. The Pacers are another team who are just one or two pieces away from a Finals trip. Paul George's injury obviously hurts their title hopes, but they are a good long-term option for Rondo. A potential trade would likely involve Celtics forward Jeff Green as well, making the starting five look like this: Rondo at point, C.J. Miles or Rodney Stuckey at the 2, Green at the 3, David West at the 4 and Roy Hibbert at center. That five isn't better than Cleveland's five, but it likely has Indiana in the Conference Finals once again. The upgrade from George Hill (who would probably become a Celtic in the trade) cannot be overstated; Hill is a better shooter than Rondo, but doesn't have the same ability as a driver, defender or distributor. It's another win-win that vaults Rondo from a rebuilding situation to the championship conversation.
3. Charlotte Hornets. Charlotte hasn't really been in the discussion so far, but they'd be a prime landing spot. Say Boston trades Rondo and Green to the Hornets for Kemba Walker and Michael Kidd-Gilchrist. Charlotte's lineup would be: Rondo, Lance Stephenson, Green, Cody Zeller and Al Jefferson, with plenty of depth on the bench. The then-Bobcats were already the eight-seed in this year's playoffs; with that backcourt, you're looking at a 3rd-5th seed in the East. In addition, North Carolina is hoops heaven. If Rondo can lead Charlotte to the promised land, he'll be lauded as a hero in a state more known for its Tobacco Road triangle. There's a lot to like about a potential Celtics-Hornets deal, and owner Michael Jordan would likely agree.
4. Dallas Mavericks. Everything's bigger in Texas; why not make the biggest trade of the summer? The Mavs just signed Jameer Nelson to play point, but that obviously doesn't mean they won't go after Rondo. Mark Cuban is always in win-now mode, so he's bound to have his people make a few calls to the 617 area in the coming weeks. Rondo, Monta Ellis (would possibly be traded in the deal), Chandler Parsons, Dirk Nowitzki and Tyson Chandler could very well usurp the Spurs and win the West.
5. Los Angeles Lakers. The likelihood of the Celtics and Lakers making a trade is slim; the rivals have only made three trades in history, the most recent taking place ten years ago. The rebuilding effort Los Angeles is taking on is probably not the most attractive to a player who is trying to get out of a rebuilding process himself, either. However, playing with Kobe is certainly enticing and the tradition of the Laker franchise lures plenty of high-profile free agents. If you're banking on the Buss family figuring out the solution to LA's recent struggles, the Staples Center might be the way to go.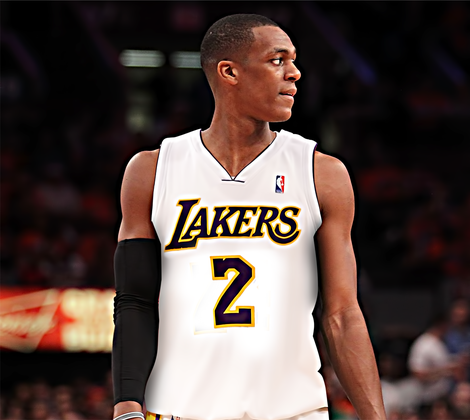 6. New York Knicks. About as likely as a Celtics-Lakers trade, but a viable option for him to explore. Passing the ball to Carmelo Anthony every night at "The World's Most Famous Arena" is extremely appealing, and once the monstrous contracts of Amare Stoudemire and Andrea Bargnani expire quality players are sure to come. It's not probable, but it is possible that Rondo could end up wearing a Knicks jersey at some point.
Where's Rondo going to end up? Drop a comment or tweet me @chuckiemaggio to keep the conversation going.