Muschamp and the Gators have lost their Chomp…..
Missouri 42  Florida 13 –  There's no denying the Gators have fallen on hard times over the last couple of seasons. At least for their standards anyway. But, there was never really a time when the program seemed to hit rock bottom. That was until this past Saturday night. Things officially hit rock bottom, and there is seemingly no help in sight.
Missouri, a team that's had troubles of their own, was coming off a dismantling at the hands of Georgia in their previous game. But, the Tigers invaded 'The Swamp' and scored touchdowns in almost every conceivable way. Marcus Murphy got the party started quickly with his 96 yard kickoff return to open the game. The Tigers then, had a punt return, interception return, and fumble return for scores. Five TD's total. The only conventional touchdown was a run by Murphy in the first quarter. The only thing missing was a passing TD from Maty Mauk. Which isn't all that surprising, considering the way he's played lately. Even more astounding is that Mizzou had ONLY 119 yards total offense. Let that sink in for a minute or two…..How is that possible? Well, anything seems possible to go wrong these days for Muschamp and the Gators.
Muschamp's seat was already on fire. Saturday's performance only added more logs and fuel. His seat is at full blaze right now. In fact, Florida fans chanted 'Fire Will Muschamp' late in Saturday's game. It's really unfortunate. It's not all his fault. Jeff Driskel, has been terrible this season. He's had every chance in the world to be the leader so many thought he could be when he arrived in Gainesville. It just hasn't worked. Which makes a defense that's played pretty well overall, irrelevant. That said, there has probably not been a better example that some people just aren't cut out to be a head coach. Muschamp, is an excellent defensive coach. Maybe, that's where he belongs.
Is LSU really back?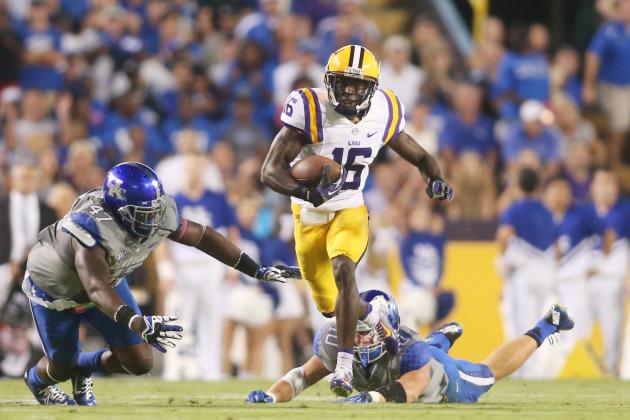 LSU 41  Kentucky 3 –  Another team that seemed to be in big trouble were the LSU Tigers and their coach, Les Miles. The level of trouble was on a much lesser level than that of Muschamp and the Gators, however. Nonetheless, the number of LSU fans unhappy with the performance of the Bayou Bengals was increasing rapidly. The comeback from 10 down to Florida could not have come at a better time.
The momentum from the win at the 'The Swamp' obviously carried over to Saturday's game against Kentucky. What looked to be a close game prior to kickoff, turned into a blowout. I think it's no coincidence that LSU's fortunes have changed since they found their running game. Against Florida, it was freshman Leonard Fournette rushing for 140 yards. Against Kentucky, it Terrence Magee's turn to pound the rock. Magee rushed for 127 yards against the Wildcats. The Tigers seem to have found their identity and as usual, they have plenty of running backs to execute their offense. The offense is still a bit one-dimensional, but the passing attack will likely get better also. Look for teams to stack the box to stop the run more often. That should open up things for a talented but young receiving corp.
Things seem better defensively also, as the Tigers who seemed quite vulnerable when teams ran at them between the tackles, have played much better since their trip to Auburn. Of course, Florida and Kentucky are no Auburn. So, the question of whether LSU is back remains unanswered for now. I think we'll find out a lot more after number 3 Ole Miss comes to Death Valley, Saturday night.
Rising Tide?
Alabama 59  Texas A&M 0 –  Nick Saban was a mad man at his weekly press conference last Monday. His team played like mad men on Saturday afternoon. Mercilessly, taking out a lot of frustration on a Texas A&M team that wanted no part of that fight. This stress reliever was much needed for Tide players. But, the stress may have been taken out by their coach in that same press conference. By putting the blame on himself and coming down on fans and media, first for taking Arkansas lightly, and then for taking a one point win over the Razorbacks for granted, it seemed to have taken a lot of pressure off his team. An ingenious move in my opinion.
Bama played a lot more loose than they played in their previous two games. But, was it a new focus by the players, or was it just the fact that they were back at home. Or, was it that the Aggies failed to show up, and put up about as much of a fight as a wet paper bag would put up against the fists of Iron Mike Tyson in his prime. As good as Saban's team looked, Kevin Sumlin's team looked just as bad. One thing seems to be more proven. That's Alabama's front seven. The line anchored by guys like A'Shawn Robinson and Jonathan Allen are looking a like the line I thought they would be before the season. The Tide has plenty of depth there as well. D.J. Pettway, Ryan Anderson, and Xzavier Dickson are wreaking havoc on opposing offensive lines and QB's. The linebackers are playing better also. We've seen Trey DePriest come of age, but now Reggie Ragland is really playing like a beast.
Better play up front also paves the way for better play from a secondary that's still trying to find consistency. Consistency, is something the offense has yet to show. At least not on the road. I suspect there will still be some struggles from the offense at times, but good defense travels well. Bama's D is really starting to rise to the occasion.
Other SEC action:
Ole Miss 34  Tennessee 3 –  This one went down almost as I expected. Slow start for the Rebels. But, they took it up a level and handled their business in the 2nd half.
Georgia 45  Arkansas 32 –  What the Dawgs' have done the last two weeks without Todd Gurley is nothing short of spectacular. Score is misleading. Game was not this close.
South Carolina 41  Furman 10 –  Much needed win for Steve Spurrier's team. But, at least the Paladins put up more of a fight than Texas A&M did.
Player of the Week:  Nick Chubb (Georgia – RB)
This was no-brainer. 30 rushes 202 yards, 2 TD's. Nuff said!